Nony here: I loved this email from one of you. I'd love to hear what you have laying around waiting to be returned! But first, if your name is Denise and you have three boys, check your email! Comment #17 on the Swiffer giveaway was chosen by Random.org. You've got 48 hours to respond to the email I sent with your mailing address!!
Let me start by saying….I am really bad about returning items. I (or hubby) will purchase things, get home, find they don't work for what we needed/don't like it, blah blah. So I'm just like, Oh well. Put it over there and I'll take it back when I go back to the store. Simple enough, right? Mm hmm. Except that it never fails I will forget. And go to that same store five times (or more) and come home and there the items sit. 

Unfortunately, I too suffer from "slob vision" so those items tend to blend in with normal household decor & items that are "supposed" to be laying around the house. (I mean, doesn't everyone decorate the corner of their fireplace with a bottle of non-toxic mineral paint thinner?) 

So today, since I had to get out to deliver some papers to my youngest daughter at school, I decided to put a dent in the "Returns Basket" in which I had placed all of the items I came across while decluttering last week. I returned 8 items between 2 stores and the total of the money I got back was $109.95! 

$110 bucks! Worth of stuff! Just sitting there! In the way! Taking up space! For weeks! Some of it for months!! I have serious issues. (Yes, there are more items to be returned, but I have to locate the receipts as I declutter some more) 

This made my heart frown a little because twice within the last week, I told two of my kids "No" when one asked if we could go grab something to eat after softball practice and the other asked if I would bring her lunch (fast food) at school. Not that we are hurting, but I explained that I was trying to not spend any extra money on unnecessary things before next payday since just this month, we've had to make repairs on two cars, pay for my oldest's college tuition, and found out my youngest needed glasses. 

So after making my returns today, I brought both of my girls lunch to school and when they smiled excitedly, that frown in my heart turned upside down!


What I'm learning

(or really already know)

:

Clutter = hurt pride over people coming into my home

Clutter = chaos and angry household members

Clutter = having to say no when I should be able to say yes

Clutter = Guilt

Clutter = $$$ (in my case)

Thank you so much for your blog!!! While I already know the many ways clutter affects my life and family, reading your blog… 

Gives me hope! When, for years, I have felt hopeless

Has helped me find the humor, when, for years, I have only been able to find tears.

Has taught me so much about looking at & working on myself! For the 1st time, (probably ever) I am no longer angry at my husband and kids. Yes, I still get annoyed that they make messes and/or don't pick up after themselves. But the anger and the blame is no longer there. Because you've opened my eyes to the fact that I need to change my habits before I can expect them to change theirs. After all, they learned from the best! (there's that dumb pride thing again)

A Fellow Slob (who now has a little less clutter and a few more bucks)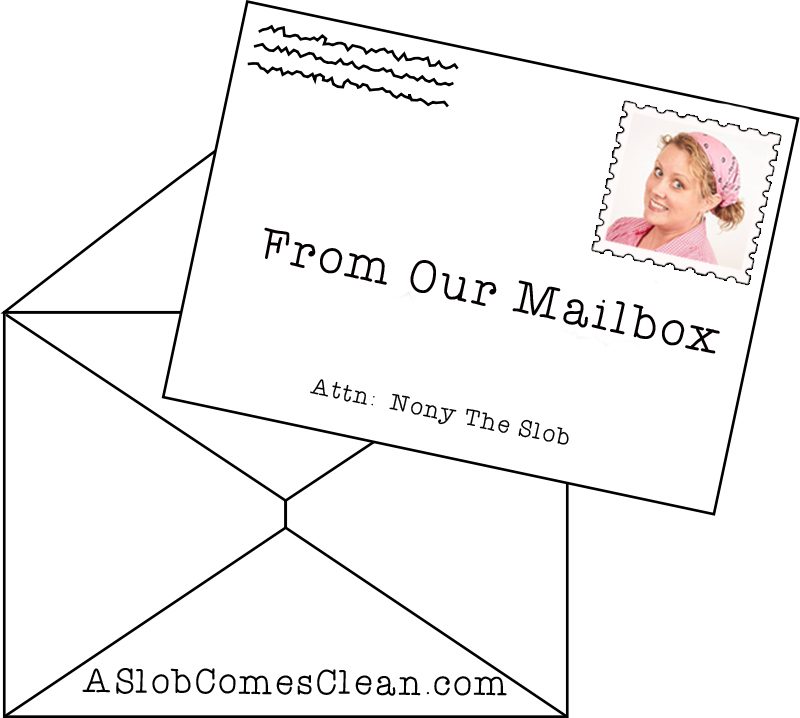 Time Sensitive Deals: Schoola is offering 50% off EVERYTHING for a limited time (which means I don't know when it will end) with the code FALLINGPRICES. Use
my referral link to get $15 in credit
. I'll be honest, Schoola's website and sizing and such confuses me a little, but with that credit and the 50% off code that you enter at checkout, you can totally score a deal for totally free. And I've gotten some things from there that I totally love. I get a LOT of my kids' uniforms there. And the best part, they ALWAYS send a bag with pre-paid shipping for you to fill up with nice clothing you've decluttered. Send it in and designate your kids' school and they'll send a portion of the sales price for your items as a donation to the school when it sells!
Today only, Amazon Prime year memberships for NEW members only are $67. I have a post in drafts, almost finished, about how I use Amazon Prime to make life easier. I so wish it was ready. But if you have already decided on your own that you'd like to try it, today is a good day to purchase it. I'm not going to try to convince anyone, because my post will show you if it's a fit for your family, and if it isn't, no deal is a good deal. Here's
my affiliate link to learn more.