Recently, I've discovered the world of used clothing online. I once sold clothing on eBay all the time, but due to the time and effort involved in that, I no longer do.
There are several sites I now know of that allow you to send in your used clothing and get paid for it or donate to your local school while they do the work of selling.
Advantages:
Someone else does the majority of the work. They photograph and describe and research and list the item for sale.
With little hassle (other than washing, stuffing in a bag, and mailing), you get money or credit for getting rid of your clothes.
If you have some things that you know are valuable but you don't have the time/energy/desire to sell them yourself, you might part with them more easily if you know you'll get SOMEthing for them.
Disadvantages:
These sites don't take everything. They do not take items with any flaws, and they do not take all brands. In fact, they are VERY specific about the brands they will take. If you don't shop at high-end retailers (or at the garage sales of people who shop at high-end retailers), this may not work for you.
You don't get all the money, obviously. Each site has some information to help you figure out how much you might earn, but there's no guarantee.
You have to sort. While you can shove anything and everything together in a Donate Box, these sites only take clothing, shoes and accessories, and may not accept men's clothing.
Used Clothing Websites:
(I'm using my own referral links for all of these. Once you sign up, you can get your own referral link as well.)
I have purchased three items from ThredUp and ordered a bag to send my own stuff to them to sell. There is a fee to request a bag, but mine was waived. (They don't know I'm a blogger, so they obviously waive it occasionally. I couldn't figure out why the fee was waived, so I can't say if yours will be or not.)
When you sign up through a referral link (this is mine), you get a $20 credit to spend on the site and so does the person whose referral link you use. Shipping is a flat rate of 5.99. Some of my very favorite wardrobe items are things I've purchased here. If they don't accept an item, it goes to charitable partners or textile recycling programs. Read all the details by going to "How it Works" under "Sell" on the site. (After you go through my referral link!)
ThredUp has Maternity, Kids, and Plus.
Schoola is similar to ThredUp in concept, but you don't earn money. Instead, the money goes to a school of your choice. When you use a referral link, you get a $20 credit that you can use on your first purchase, and they often run free shipping sales (which means you can get a thing or two TOTALLY free).  Go here to sign up through my link.
I've purchase from Schoola several times, and they've always sent a donation bag with my purchase. This makes it easy to do the One In One Out thing.
The Third One that Doesn't Actually Exist Anymore
I know. The title of this post says "three websites" but unfortunately, one of them has gone away since the time I wrote this post.
Have you used any of these sites? How did it work for you?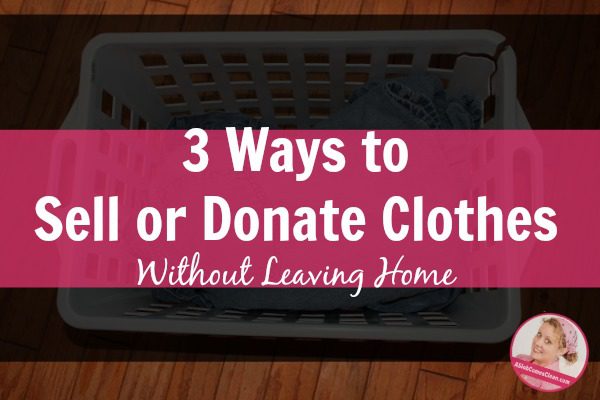 Save
Save
--Nony