Grasping what I call The Container Concept has changed my life/home. Many of you have told me it has changed yours too.
Today and tomorrow, I'm going to share a few examples of how it works.
While decluttering recently, I excavated the glasses in the photo above.
My first decluttering question is: "If I were looking for this item, where would I look for it first?"
I'd look for glasses in the cabinet where I keep glasses.
Duh.
So I took them to that cabinet immediately. (That's the second part of the first decluttering question.)
But when I got there, there was no room for these glasses.
Phooey.
I looooove these glasses. They're polka-dotted!!! They're big!!! They're perfect for my ice-water obsession!!! I know this because I recently decluttered their Ugly Siblings. The ones I'd used to death.
I knew I loved these glasses. I was so excited to find them.
But once I arrived at the "place where I would look for them first" . . . there was no room for them.
My Glasses Cabinet has just enough room for the glasses I have. The grown-up ones I'm so proud to use. There isn't space to add three (even three stackable) cups, no matter how loved.
The cabinet is my container. Its size is finite.
A container is meant to contain. The size of the container determines how much/many of something I can keep.
Really. If I try to put more into a cabinet than it can actually hold . . . doors don't close, stuff breaks, and/or items fall on my head.
And even if I avoid those three pitfalls, it's just plain hard to get to what I need.
So at this point, I had to make a decision. Should I get rid of some glasses that are already in the cabinet so I can keep these re-discovered ones? Or should I stick these perfectly-good polka-dotted beauties straight into the Donate Box?
Because I can't keep both.
They don't fit.
It was tough, but I purged the polka-dots.
Something had to go.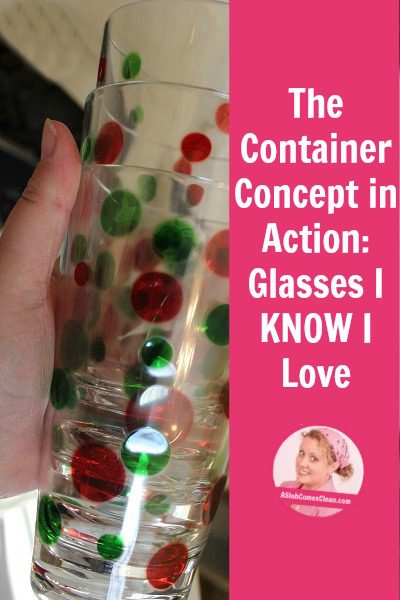 Save
--Nony