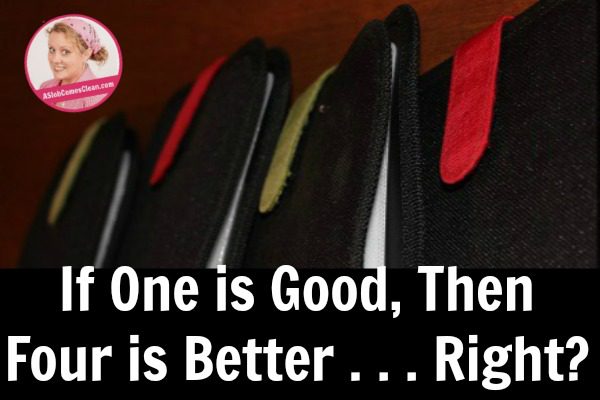 I had a flashback to my pre-blog mentality recently. My daughter opened an ever-so-cool train case that I knew contained photos. It has contained those photos for a very long time, and I hadn't opened it in a very long time.
But . . . if I were looking for those photos, I would look there first.
I didn't know it also contained these: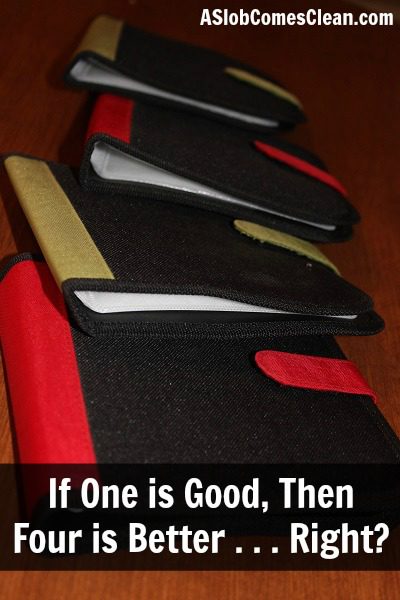 Four CD holders. I vaguely remember buying these at a garage sale. I'm sure I was excited they were like new. I'm sure I was excited there were four!!!
Because that was my old mentality. If one is good, then four is better, right?
Or six. Or eighteen. Basically however many I could find at some amazing rock-bottom price was exactly how many I needed.
Exactly how many I never knew I needed.
It didn't ever occur to me that there was a limit to anything. Ever.
I'm sure that over the past four years of slob-blogging, I've run across those four, brand-new, still-never-used CD holders. I probably stressed and fretted and decided to keep them just in case I ever needed them to get my CDs organized.
But now I have a spot (an actual, designated spot) for all CDs, so I know for sure I don't need them. So this time, they were easy to declutter. Zero angst.
It's one of the reasons why I love re-decluttering. The second (or sixty-seventh) time I declutter a spot is so much easier.
--Nony