Happy Birthday to me! I'm scheduling this post to go up the night before I turn 40.
The Big Four Oh.
To celebrate, I'm waxing eloquent about growing older.
Here goes:
When I turned ten, I cried. I cried because I was getting old.
For real.
Thankfully, my concerned teacher took me out in the hall, asked me what was wrong, and then explained that some people have real problems. Overly-dramatic-grief that life was flying by at ten years old wasn't one.
On her tenth birthday, her father died. That gave me a healthy dose of perspective.
I don't remember pontificating a lot about my 20th birthday. I was in college and life was pretty much non-stop fun.
I was excited to turn 30 because it made me feel like a real adult. I'd always been told I looked younger than my age (please don't burst that bubble today with the truth, it's my birthday . . . ), but when I could say I was thirty, it seemed people automatically took me more seriously.
And now I'm 40.
Not that I know what the 40s will bring, but I feel like I'm going in as me.
See, I used to be different people in different places.
I had an economics professor in college who made this clear. I was NOT one to join in class discussions unless called upon. I came, took notes, and tried to blend in and not draw too much attention to myself.
This professor just happened, though, to attend a play one weekend. A play in which I wore a somewhat skimpy outfit and sang and danced and generally proved I'm not the least bit shy.
And on Monday morning, she went on and on (seriously, for almost ten minutes) about how offended she was that I was SO different than she had thought from seeing me bored to tears in her class each week. (She didn't say the bored to tears part.)
But that was how I rolled. There was a time and a place to let the fun and funny me out, and economics class wasn't that place.
This philosophy made sense to me for many more years.
It might have something to do with why my husband experienced slight heart palpitations at our wedding rehearsal. He had never seen me in my Director Mode until that night. As a theatre teacher, I wasn't about to pass off the responsibility of directing my own wedding rehearsal. He was a little frightened by my . . . ummmm . . . extreme decisiveness and lack of inhibition while expressing my desires for exactly how this wedding was going to go.
Thankfully, he married me anyway, and is now my biggest cheerleader when I get in my Director Zone.
I went on being different in different situations for about ten more years. Not that I was faking, I just wasn't being me unless I felt completely and totally safe.
But then, when I was 35, I started this blog.
I had no idea how it was going to affect my life.
I didn't think I had been hiding a part of myself, it was just natural to NOT announce to the world that I was a slob. So it was logical to use a fake name and not show a picture of myself.
But then I started making some blogging friends (who first knew me as a slob and somehow weren't horrified) and they convinced me that people needed to see my face. That it wasn't possible to fully connect with readers without showing I was a real person.
So I had my husband take this picture: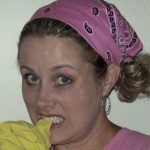 My hope was that by wearing a bandana (which I don't wear in everyday life), I wouldn't be recognized if a real-life friend happened to land on my blog.
It was soon after I showed my face that I started to realize maybe . . . A Slob Comes Clean wasn't my practice blog. Maybe I wasn't going to one day let it fall into oblivion so I could start my real blog. And if A Slob Comes Clean was my real blog, then it was also my ministry. And if it was my ministry, I couldn't keep it separated from my "real" life.
My worlds . . . were going to have to collide.
So in those last few years of my 30s, that's what happened. Because of my e-books and certain search-engine requirements, I now publish under my real name.
People in my real life know about my blog. I don't go around telling about it, but I also don't change the subject when they ask what I "do."
Some of my kids' teachers know. My husband's coworkers know. My pastor knows.
(Not just that I have a blog, but that I am a slob. OUCH.)
I don't know who already has read my heart and knows my innermost thoughts and my deep, dark secret. And that has helped me be the same me everywhere.
I must say that the not-hiding, the not-segmenting-my-life is actually really nice.
We'll see what the 40s hold.
If you're in the mood to give me a birthday present, I'd love to know (in the comments) how you first found out about A Slob Comes Clean.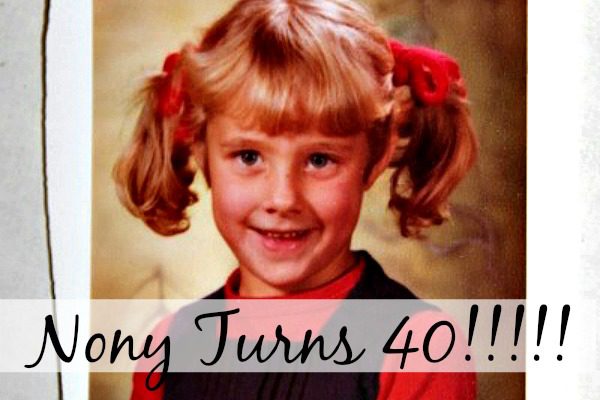 --Nony