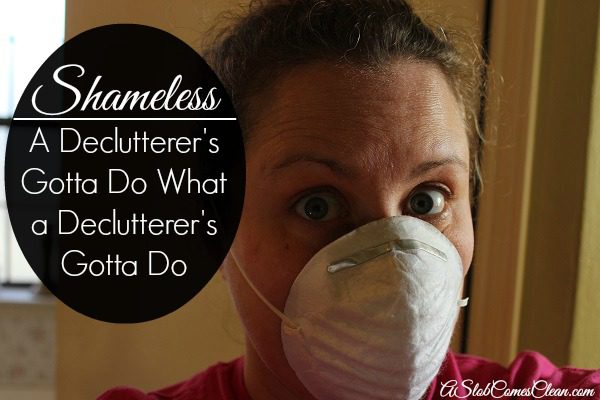 Oh, the shamelessness. No make-up, eyebrows that need plucking, and sunlight reflecting perfectly off of a GRAY frizz-curl in the middle of my forehead.
(The things I do for this blog . . . )
But I'm talking about the dust mask.
I come from a line of dust-mask-wearers. My mother, Practical Peggy, always wore one when she vacuumed and dusted. It was normal to me.
Not that I loved it. But I chose not to say anything else after one of my comments about how I couldn't see her expression prompted her to draw a VERY large, VERY red smile on the front of it.
Which was traumatic.
Anyway, I started buying them myself soon after I had my own home because I don't love being sick, and breathing in dust makes me sick.
And being sick isn't fun. And being sick means I can't/won't keep cleaning.
Since wearing a dust mask to clean/declutter is totally normal to me, it's funny to see others' reactions to it.
I've had more than one person make shock-revealing comments when I've answered the door with one stuck on top of my head.
"Wow. Is it really that bad?"
I've received feedback on decluttering videos from people who were amazed that I would get on YouTube wearing one.
I mean, showing the world your path-through-the-middle master bedroom is one thing, but wearing a dust mask???!?!?!
A declutterer's gotta do what a declutterer's gotta do.
For real, people.
And this girl with highly-sensitive airways has to wear a dust mask. I'm not willing to get sick and I'm also not willing to live in clutter forever. (A few months at a time, yes. Forever, no.)
My point is not to get all snarky about dustmasks, but to ask what other shame-related things keep people from decluttering.
Or, to put it better . . . what keeps YOU from decluttering?
If you're thinking, "Why doesn't she just not let her house get cluttered so she wouldn't have to declutter and wear that goofy-looking dustmask?" . . . welcome. You must be new here.
My newest book, Decluttering at the Speed of Life is now available wherever books are sold!
Does even the thought of decluttering overwhelm you? Sign up for my newsletter and get my reality-tested decluttering solutions delivered to your inbox for free.
Save
Save
--Nony