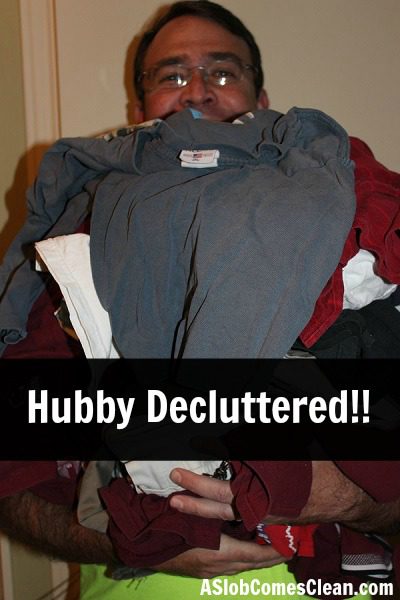 So here's what (sometimes) happens when you start decluttering: Other people in the house get the bug too.
I'm kind of sortof cheating on this post. It has been a crazy week, and I've actually been away from home, so I didn't get any decluttering done.
So I'm posting this from last week. Remember how we worked on the kids' rooms? Well, while we were doing that, Hubby decided to go through his stuff.
Including . . . some of the very t-shirts that I've put in the trash before, only to have him pull them back out!!!
When he came to find me to ask what I thought he should do with these shirts that he "never really wears anymore" and that had "holes in them" . . . I kept a straight face and said, "Honestly, sweetie, I think you should get rid of them."
I nodded with understanding and tried to look as if I shared his inner turmoil.
I waited until after he left the room to do my happy dance!!
So I'm sharing that as this week's decluttering report.
(Besides, Hubby claims it's good for blog traffic when I show his picture.)
How was your week? I'd love to hear your decluttering adventures (or frustrations) in the comments, or you can link to a post on your blog that shares a decluttering project.
I'd also love to know if you would like to continue these decluttering link-ups on a monthly basis?
Save
--Nony