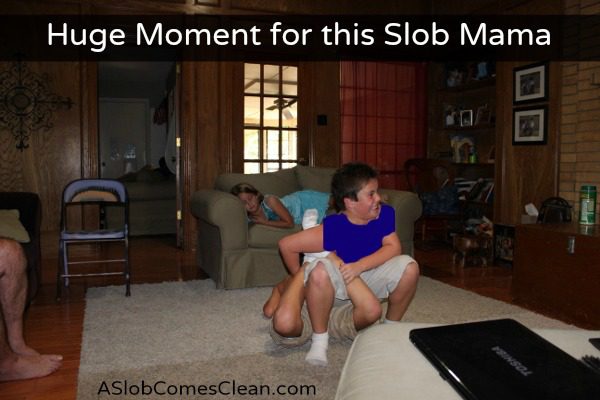 I have two boys who are ten and eleven.
They totally crack me up.
Lately, they've been choreographing detailed "wrestling" matches and performing them for the rest of the family.
Sunday, as they put on their scheduled pay-per-view (a penny per person) match during half-time of the Cowboys game, I used my fancy new camera to video them.
These are the shots a mother must have when she puts together a high school graduation video.
As I videoed, I suddenly had a moment.
A big one.
I realized I wasn't moving all around and contorting angles to avoid showing a mess in the background.
And this was on Sunday afternoon BEFORE we officially cleaned up the house to have it ready for our church home group to arrive that night.
Other than a few things here and there (like the Costco-sized Parmesan from our football-watching picnic), the room looks perfectly fine. No humongous piles anywhere.
The formerly-perpetually-covered-in-clean-laundry loveseat was available for my 7yo to lounge upon while watching the show. (Though she REFUSED to boo for the designated bad guy because he's her brother and she LOVES him!)
Y'all . . . this is big.
Really.
I can't tell you how many times I used to miss beautiful moments because I had to shove clutter out of the way before I could let myself take a picture.
I still have plenty of days when this isn't the case, but I'm going to enjoy the satisfaction from the fact that it happened.
P.S. Yes. I did draw a shirt on my child.
__________________________
Please make sure you check your spam if you are Sheila B! You won the Post-it giveaway, but I have to get a reply to the email soon (like a little over 24 hours after this post goes up) so I don't have to choose another winner! 
Save
--Nony