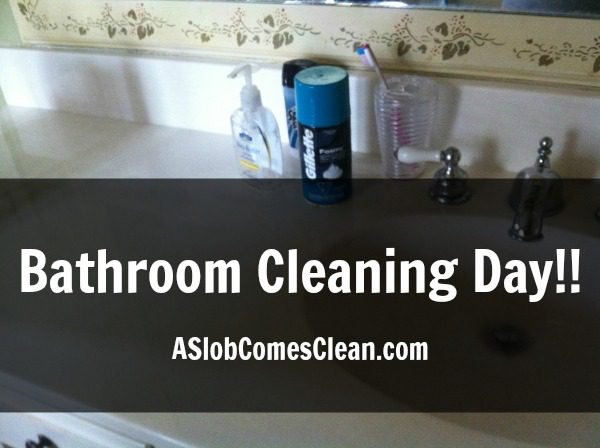 Today . . . was Bathroom Cleaning Day.
Not that I've cleaned a bathroom on a Tuesday (or on any other day when we weren't expecting company) in many Tuesdays.
But I'm getting back on track, right? And a track is a designated path . . . right?
While a car can do doughnuts in the parking lot, a train only goes where the track is.
So rather than throw my hands in the air dramatically (though I'm awesome at that) and run around randomly picking up and half-cleaning all the MANY things that need to be methodically picked up and all-the-way cleaned . . . I cleaned the bathrooms.
Because it's Tuesday.  And knowing that Tuesday is Bathroom Cleaning Day lets me focus on doing the bathrooms well.  And keeps away the nagging guilt that I really don't have time to clean bathrooms when the whole house is in need of so much.
So, after my workout (see how I casually mentioned a workout like it's not a big deal, when it totally is!), I dragged my sweaty-and-gross-anyway self into the bathroom and started cleaning.
Allergy season has started so I wasn't in the mood to add chemicals to the list of stuff I'm breathing in, but I was out of my For the Bathroom Only dish soap.
So I used handsoap along with a non-scratch scrubby sponge.  It didn't work as well as the dish soap, but it worked better than not cleaning the bathroom.
The difference is actually VERY visible.
Since the dirt was also very visible.
I was reminded again how important daily habits are.  Like the one about checking the bathrooms for clutter.
When I don't do that, Bathroom Cleaning Day does double duty as Bathroom Decluttering AND Cleaning Day.
Imagine that.
Cleaning doesn't take as long, feel as overwhelming, or seem as pointless when I don't have to declutter first. When I can just clean.
But today I didn't have the luxury of just cleaning.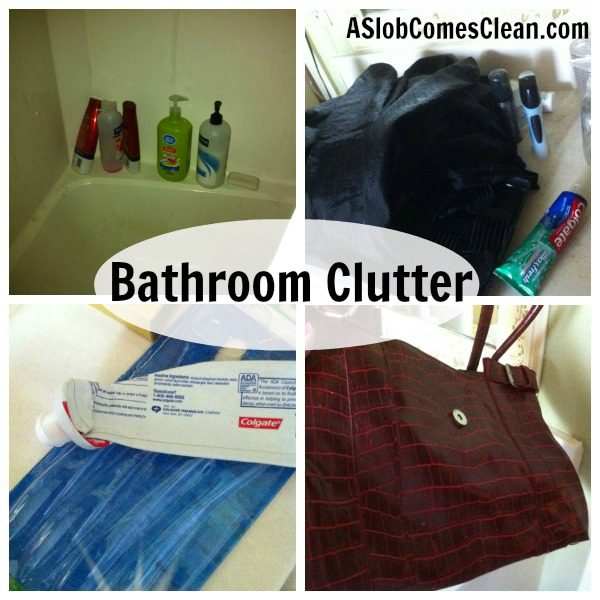 I had to pitch empty shampoo bottles. (Top left)
I put away hair cutting stuff that had been there since two haircuts ago. (Top right)
I threw away empty toothpaste tubes and empty toothbrush packages. (Bottom left)
And I stuck a purse/bag/rather-ugly-thing in the Donate Box.
That "purse" had been sitting on my bathroom counter for more than three months. I never liked it, but it was free . . .
Free stuff has to be useful, right?
After toilet-bowl scrubbing, sink-scrubbing and on-my-hands-and-knees shower scrubbing, the bathrooms look oh-so-much-better.
And I'm ready for next week's Bathroom Cleaning Day to go oh-so-much-faster!
--Nony