The following decluttering/organizing project is a sponsored post:
How is it that the single largest object in my kitchen somehow becomes invisible to me?
School is about to start. (Blech.)
Soon, we'll start collecting random notes and reminders to stick on the fridge, so it was time to look at it with fresh eyes and remove last year's random notes and reminders.
I also had the added motivation of some lovely (and fun) new products sent to me recently from the Home Collection by Post-it Brand and Scotch Brand. This particular collection is available at The Container Store, and the products definitely made me start daydreaming about a prettier and more organized fridge to start the new school year. 
My goal was to clear off the fridge, decide what actually needed to be there, and use some of these products to help me avoid re-cluttering it so quickly!
First, I took everything off.
Second, I cleaned the fridge. It's harder to ignore fingerprints when all the stuff is gone.
Then it was time to decide what to pitch and what to keep.
Out of all that was on there, only three things made it into the Put Back On the Fridge Category.  I "filed" things I didn't want to throw away (but that didn't deserve a permanent place on the fridge).
(Filed = Put in the bottom drawer of my china cabinet.)
The vast majority, though, was trash. Flyers for camps that already happened, charts for resolutions that fizzled long ago, and Mother's Day gifts.
What? I trashed Mother's Day gifts???
Ummm, yes. I'm all for homemade gifts. And I do treasure things my kids pour their hearts and souls into. But . . . paper butterflies that were mostly created by a teacher and then glued together as a class project? They don't make the cut. 
I'm not heartless, people!  Mother's Day was in MAY and it's now AUGUST!! They had their day, but don't deserve a place of honor (or precious fridge space) for years to come.
Now for the fun part: Using my new organizing products!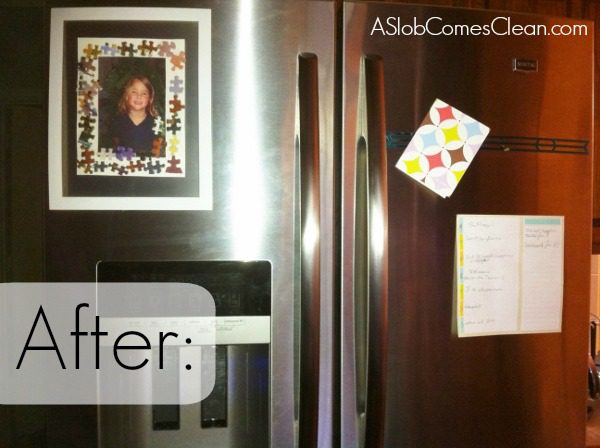 On the front of the fridge, I used a Scotch Display Frame to put up one of my favorite fridge photos. (I love how the photo is protected, but can be easily changed out when a new favorite comes home.) I also used the Post-it Planner & Perforated List Pad on the front. I think this pad will be ideal for meal and general week-planning, with a tear-off-able shopping list at the side!
Somehow my to do lists and shopping lists are always getting jumbled together. I like the idea of them being together, but not.
And then, my very-favorite thing? The Scotch Restickable Display Strip.
During the decluttering process, I did have a DUH moment when I realized all the pieces of paper with so-and-so's Mom's phone numbers were unnecessary if I just PUT THE NUMBERS INTO MY PHONE.
But . . . there are still random things I can't imagine NOT putting up on the fridge.
Like birthday party invitations.
It's just . . . where they go. The Scotch Display Strip is perfect for this. First of all, no magnets are necessary. It sticks to the fridge (even my stainless steel one), and the cards stick to it.
And, best of all, it provides one of my ever-so-necessary limits! A definite (and finite) space means that as a new invitation comes in, my brain will register that it's time to pull off and throw away the old ones.
After decluttering, the side-of-the-fridge was almost empty. I decided it was the perfect spot for some of my favorite products.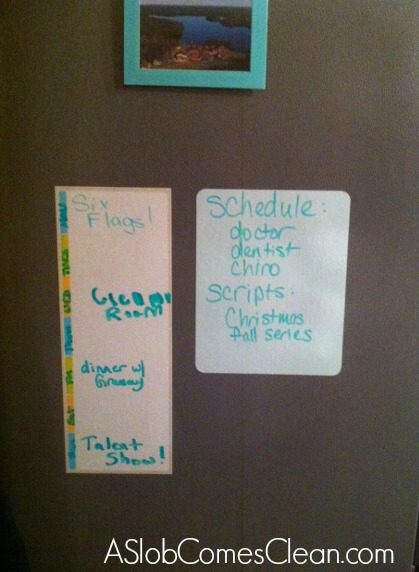 The Post-it Dry Erase Message Center and Dry Erase Planner are directly across from the drawer with my dry erase markers.
I put my nagging to do list on the Dry Erase Message Center and used the Dry Erase Planner to map out our week. Obviously, my daughter loves this idea because she added "Clen my room" as soon as she saw this new set-up. I will NOT be erasing that one!
It looks so much better now. My daughter asked if we got a new fridge!
I'm excited to start the school year fresh, and to hopefully keep it less cluttered by having some new tools in place.
What do you think? And I'd love to hear your ideas for using some of these new products. What would you plan on the Post-it Planner and Perforated List Pad? How would you use the Dry Erase Message Center?
And FYI, I did move things around to experiment.  Any marks were easily cleaned off with my stainless steel cleaner.
This post is sponsored by Post-it Brand and Scotch Brand. I was sent these products to use, and was paid for my time. The opinions, experiences, messy fridge, and tendency to keep invitations for parties that happened last year? Those are all mine.
Find out more:
--Nony