This was a total experiment. An I-wonder-if-that-would-work recipe.
And . . . it did!  These Waffle Iron Pizza Pockets were great, and a huge hit with the whole family.
I had seen Erin mention making cookies in a waffle iron (a new concept to me!) and in the comments, someone mentioned making Grands biscuits or cinnamon rolls this way.
That got me thinking about my most-viral-on-Pinterest recipe for Pizza Snowballs.
So I tried it.
Ingredients:
A can (or however-many cans) of refrigerated biscuits. I used the small biscuits instead of the grands because that's what works best in my Pizza Snowball recipe.  However, I think Grands would work fine for this.
Pepperoni
Mozzarella cheese (I used string cheese because it was less messy than shredded. I think sliced mozzarella would actually work best.)
Marinara Sauce for Dipping
Instructions:
Pull the biscuit apart and stack the bottom half with pepperoni and mozzarella. You could do one full biscuit on top and one on bottom, but I think this would be too much bread.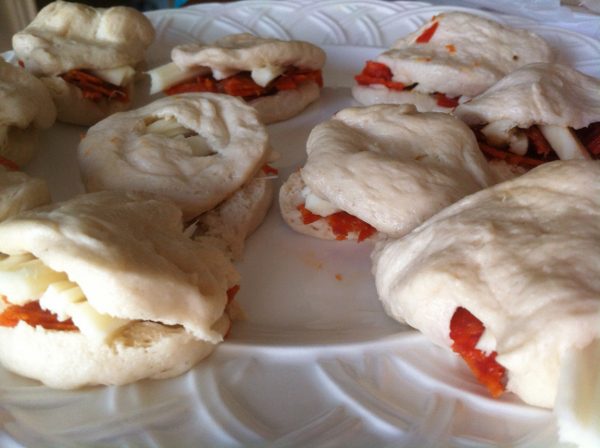 Just place them in the waffle iron and cook like you would waffles, watching the ready light.
I was amazed at how quickly they cooked through.
Advantages of this method:
You can make a small batch for a quick lunch.
Overall, it's less messy than the Pizza Snowball method.
You don't  have to turn on the oven, even though I got a little warm standing at the waffle iron.
You do not have to be as precise about sealing the pocket as you do with the traditional method of making pizza pockets.  The waffle iron squishes and cooks everything together.
It's fun!
Disadvantage of this method:
You can only cook a limited number at a time, rather than just leaving it to cook in the oven.
(Y'know, while you run around the house finding lost cleats and gloves and slapping on some mascara!)
We took these to our baseball game, and ate EVERY last one.
See my other picnic recipes here. 
Follow my Picnic Recipe Pinterest board here.