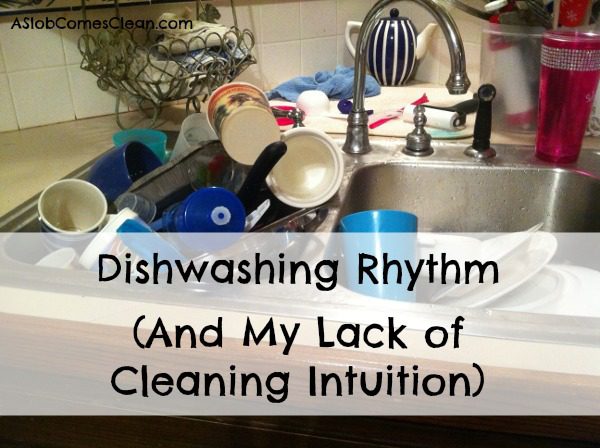 I'm not exactly sure how that happened.
I know how to keep it from happening, but I still find myself amazed that getting off my dishwashing rhythm, even for just a day (or so), creates such a pile up.
Pre-blog, I would often say I had to run the dishwasher three and four times a day.
I'm pretty sure I wasn't lying.  I really did have days like that.
But now, as long as I can keep the run-it-at-night, empty-it-in-the-morning, fill-it-throughout-the-day rhythm, our family of five generally produces one full load of dishes to wash every night.  And many times, I can even put my pots and pans in there, which makes me ever-so happy.
But alas, when I think to myself, "We haven't eaten at home at ALL today, there can't be enough dishes to run a load!" . . . I'm wrong.
Almost always wrong.
I don't know how it happens, but it does.  And when I get off that rhythm, I end up at the one-full-load-just-isn't-enough place again.  That sink-full of dishes? It was AFTER we started the dishwasher.
Yep.
It was the stuff that didn't fit.
A busy weekend and I'd been living with the delusion that we hadn't created enough dirty dishes to fill the dishwasher.
Me and my blankety-blank delusions. 
The irony is that even after the first load finished, I looked at that sink and thought, "Hmmm. That probably isn't enough for a full load . . . "
Seriously.
Thankfully, I didn't listen to myself and tried to get back on rhythm by at least emptying the clean dishes and putting the surely-not-enough-for-a-full-load dishes in.
Lo and behold, an almost a full load. Which made me glance around to see if I'd missed anything.
Right there, in plain sight:
More dishes.
And once it was all in the dishwasher, it looked like this: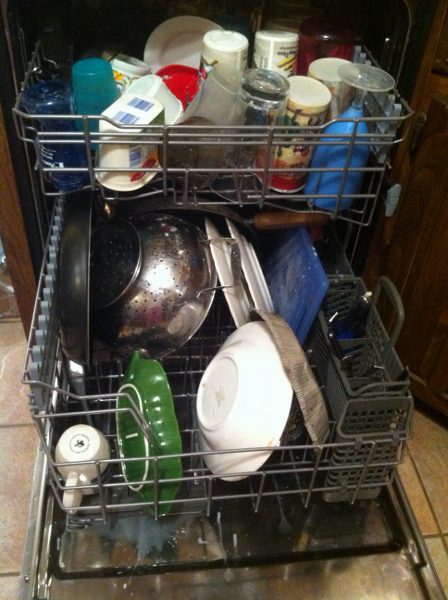 If you've ever heard me speak, you know I go through this exact scenario.  Obviously, I don't make these things up.