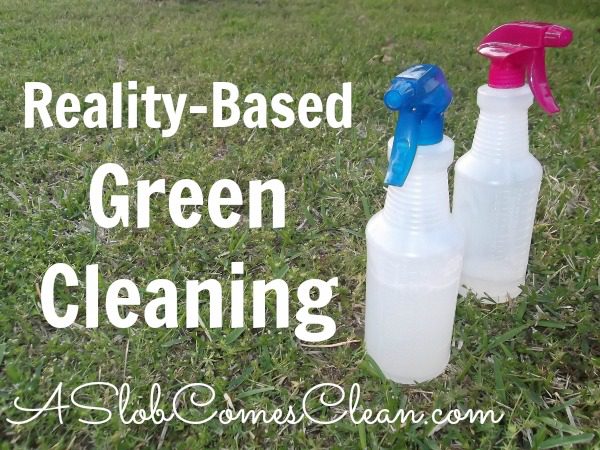 It's Earth Day. This post has been almost-written for a while, but I hadn't published yet since I know this can be a hot-button issue (and I generally stay away from those).
(Deep breath.) Here goes.
I love green cleaning.
Really.  I have a Pinterest board about it and everything.
Question: Am I a supporter/advocate/lover of chemical-free, totally natural, wouldn't-hurt-you-to-lick-'em cleaning products?
Answer: Yes. I am. Absolutely. 100%.  They're awesome.
BUT
(I cannot lie, I do NOT like big BUTs.)
BUT
I'm not against traditional cleaning products.
Reality trumps awesome.
Here's one reality:
Slobs tend to be idealists.
Don't get me wrong. Idealists are not necessarily slobs, but slobs are almost always idealists.
People like me love to talk about the very best ways to clean things.  We talk about the horrors of breathing in chemicals.
About the did-you-knows of what was really in whatever your mother used to clean her toilets.
All that talk and idealism and fear? Totally noble.
But having a disgusting bathroom isn't noble.
There have been times when my freak-outs backfired on me.  I couldn't stand the thought of all those chemical-ly cleaners, so I just didn't clean.
Here's the reality about using all-natural cleaners: They work great as part of your cleaning routine.
Routine is the key word here.  Most green-cleaners are mild by definition.  Mild cleaners are perfect for cleaning up a week's worth of soap scum.
Y'know. A mild mess.
A (few)  month(s)?  Not as much.
They can do it, but require extra:
muscle
sweat
effort
irritation
TIME
Five more excuses.  Five more reasons to put off cleaning for even longer.
I'm all for finding ways to do as much cleaning as possible with as few chemicals as possible, but I have to be careful that my desire to do everything in the ideal way doesn't mean I just don't clean.
I have found there are two options when I want to be green but have let things go for a little/lot too long.
Option One:
Do my best to clean with green cleaners, knowing it's not going to look perfect or maybe not even "clean" at the end of today.  Then, come back tomorrow (or the next day or next week at the latest) and clean it again.  Repeat consistently until finally it's totally clean.
Option Two:
Get over my ideals, put the kids in the backyard for a few hours (or send them to Grandma's house), open the windows, put my pink bandana over my nose and mouth like a bank robber, and use the stuff with a skull and crossbones on the label.
And then next time (next WEEK), I can come in with my drinkable vinegar and keep it clean.
Or clean with the hard stuff again if that's all I've got.
Worrying about chemicals while NOT cleaning at all?  That's not an option.