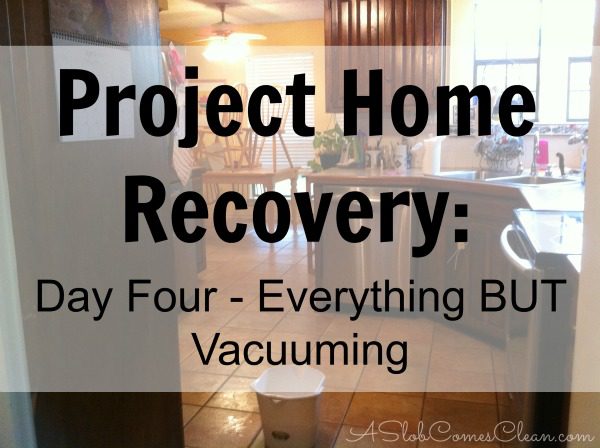 Do you talk to yourself while you clean?
Oh. Me neither.
But if I did, today my constant reminder to myself would have been, "Everything but vacuuming."
At first, I planned to vacuum. But then I got going, and decided I would leave it for tomorrow.  Somehow that helped keep me on track. Every time I would think about waiting until tomorrow to do something, I would remind myself that the ONLY cleaning task I want to do tomorrow is vacuum. So if it wasn't vacuuming, I had to do it today or it wouldn't happen.
Even after "keeping up with" the kitchen all week, this is what it looked like this morning.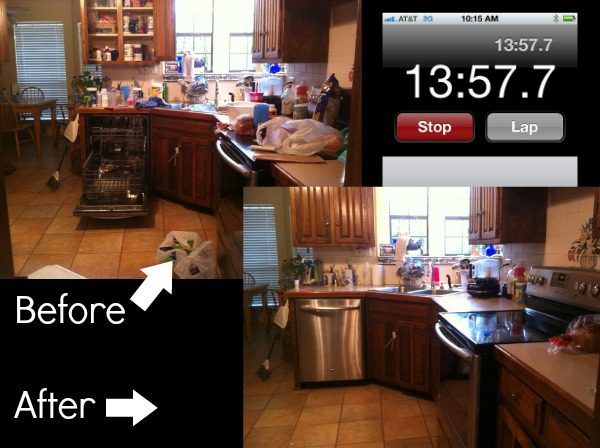 That's after not cooking dinner last night. Basically, this means that my normal kitchen is a messy kitchen after a normal-ish day. I just have to clean it up. 
I spent longer in the kitchen than I wanted.
I decluttered and cleaned up the breakfast area.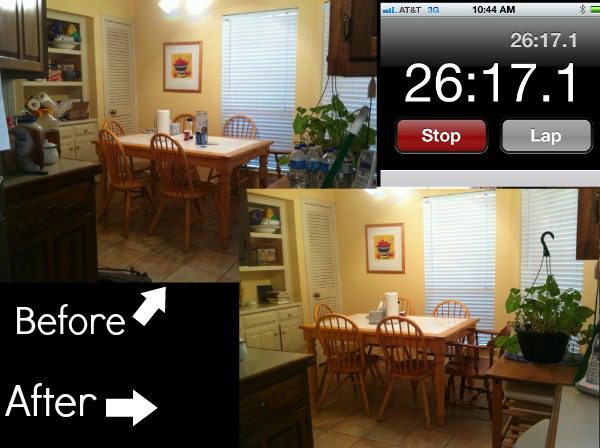 I tackled the biggest paper-collecting spot in the entire house. (Full disclosure: I did some shoving. If you are attending this party, please don't look in the cabinet underneath . . . )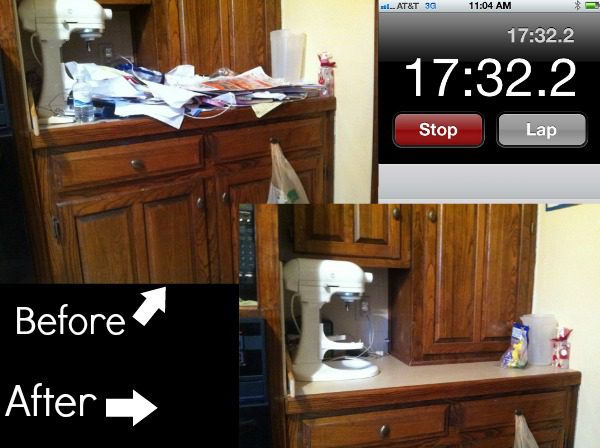 And then . . . I swept and mopped.
Yes. This was the point when I realized I wanted to plow through the rest of the house and focus on doing everything BUT vacuuming.
I walked into the dining room and saw this: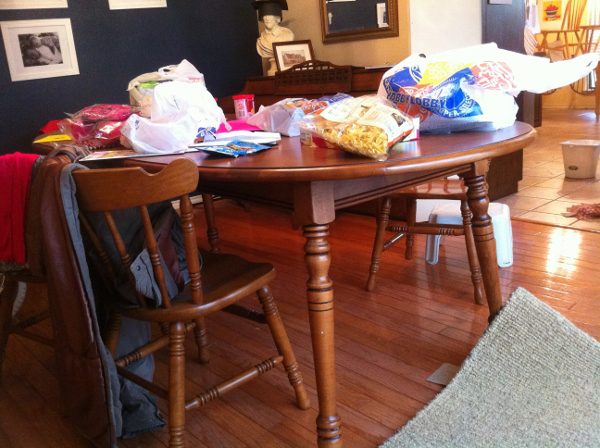 At first glance, it looked like a totally justifiable collection of party supplies.
Except that it wasn't.
It was party supplies plus noodles plus Hubby's coat plus my new welcome mat plus clothes that had been dry since Monday.
So I removed everything but the party supplies, and it looked a little better:
Nothing like bursting my Delusion Bubble.
And then, it was time.
Time to tackle . . . the playroom.
Let me explain.
Please?
It could be worse.  It has been worse.
Pre-blog, this room was awful.  Worse than awful.  I've decluttered it down to the bare minimum. So the fact that we only have one stray pool noodle and some knocked-over chairs is pretty amazing.
But . . . it's dirty in there.  Really DIRTy.  See, it's actually an enclosed porch.  We leave the window/door open for our dog to get in.  It's kind of . . . her room. Which is probably why she talked to me the entire time I was out there.
I cleaned.  I wiped the dust/dirt/mud off of the hockey table, the play kitchen, the bookshelf and more.
Then I vacuumed. There was just no getting around it in the playroom.  And, for what I do believe is the first time EVER, I mopped that room.
It looks better:
And tomorrow I will vacuum the rest of the house and start on the FUN parts of getting ready for a party.
I'm going to bed now . . . and hopefully I won't have nightmares trying to keep party guests out of the playroom.
See days one, two, and three of Project Home Recovery.
Save