I canNOT believe tomorrow is February.
In February of 2012, I had fun participating in Simply Rebekah's "Day in the Life" link-up.  (Here's my post from last year.)
Last night, at exactly 6:45, it hit me that if I was going to take 24 hours worth of pictures AND get the post written in time to link it up again this year, I needed to get started.
Like . . . right then. 
So I did.
I took a picture every hour for 24 hours, except while I was sleeping.  (Since that would just be creepy.)
At 6:45 p.m. last night, I was at choir practice: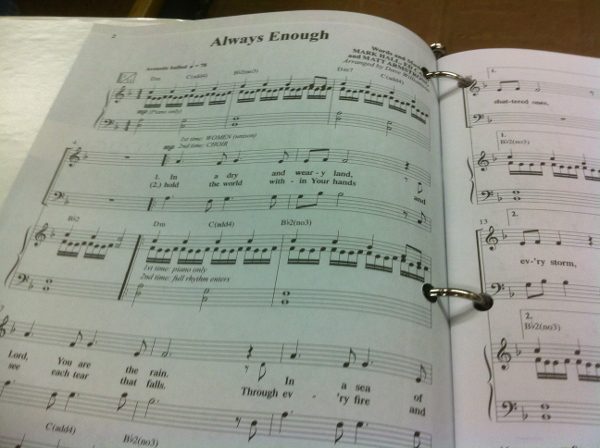 At 7:45, I was at praise team practice:
Those are my fellow singers.  They were more than willing to pose for my pictures.
And yes, Mother, I dyed my hair.  It's supposed to fade . . . but for now it's basically black.  And I'm having an identity crisis over it. 
And yes, I really need to re-apply make-up before taking pictures at the end of a long day . . .
At 8:45, we were still rehearsing:
This was actually right BEFORE we were supposed to come in, so we were  only pretending to sing.  Debbie's pretty believable, Karina . . . not so much. Me?  Not at all.
At 9:45, I was just getting home. The dishwasher and dryer were both running when I walked into the house.  What a man!
At 10:45, I was heading to bed.  I stopped by the linen closet to grab a clean, not-yet-slobbered-on pillowcase for my wake-up picture.
At 6:45 this morning, I was pretending that it wasn't really time to get up yet.
At 7:45, I was drinking my one cup of coffee for the day, and doing my Bible Study lesson (after having dropped the kids at school).
At 8:45, I was emptying the dishwasher.  (Usually this is a 6:45 job, but this morning I was still pretending I had time to sleep  . . .)
At 9:45, I was getting into my "Nony" costume:
At 10:45, I was in the middle of shooting the finale to the Master Bedroom Saga:
Why yes.  That is my fancy equipment.  It's my iPhone attached to my tripod with rubber bands.
At 11:45/12ish, I was washing two avocados to make guacamole for my lunch.
You don't wash yours with soap?  That's weird.
At 12:45/1ish (the every-single-hour thing was starting to get a bit muddy at this point), I had just started back to work in the master bedroom when I remembered what I had meant to search for online while eating my lunch.  So of course, I went back to find it, and proceeded to cry the entire time I watched this video.
At 2ish, I was vacuuming the Master Bedroom:
At 3ish, the picking up and driving all around began:
At 4ish, we were heading back out to pick up the brothers, after my 6yo had made them a snack:
At 5ish, I was browning 10 lbs of ground beef and my 6yo was making the meatballs for tonight's supper.  (She was on a cooking kick today!)
At 6ish, after taking my 11yo to basketball practice, we had Family Kitchen Clean-Up Time.
(That's my 9yo making Daddy's lunch for tomorrow.)
And at 7ish (24 hours after I started), I was heading back out to pick up the basketball practice-er.
And that . . . is one random day in the life of a Slob Blogger.  2013.
Go check out more "Day in the Life" posts at Simply Rebekah!