It's Monday.  Sooooo, obviously . . . it's Laundry Day.
The best/smoothest/make-me-feel-like-I've-got-this-homemaker-thing-down Laundry Days begin on Sunday evening.
So last night we gathered and sorted last week's dirty clothes and I started a load of towels.
(Towels are my favorite Sunday Night Start Load because I can put them in the dryer and they won't clank and knock around if I go to bed before they're finished.)
But last night I almost forgot to put them in the dryer.
When I actually did remember, I felt a flash of pride.  But I opened the dryer to throw them in, and my pride went away.
Fast.
Because there was the load I had accidentally-on-purpose left in the dryer . . . since last week's Laundry Day.
I was tired.  Like, I'd already decided I was done for the night BEFORE I walked past that blankety-blank laundry room and remembered that I needed to switch over the load of towels.
So . . . I consciously rebelled against my newfound understanding of what it takes to have a Super Duper Successful Laundry Day, and deposited that week-old load of sheets and towels on the loveseat.
I know.  The Laundry Hero has fallen.
But it was just ONE LOAD.
Except that this morning when I saw it (only because I have people coming over for lunch today), I realized that ONE load is enough to make the loveseat un-sit-on-able.
So one load, twenty loads . . . what's really the difference?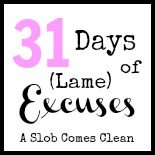 _____________________________
Commercial break:
I hate to stress you out but Christmas is coming.  Pretty quickly.
This offer is now expired. So why not order these labels while they're free??  Shipping starts at 3.69, and they're by Vistaprint, whom I've used many times for my business cards.  I've always been pleased with the quality.
And yes . . . of course that's an affiliate link.
And one last thing, did you know you can vote once a day?  I'm sorry.  This contest is over.

Save