It's Monday.  Sooooo, obviously . . . it's Laundry Day.
The best/smoothest/make-me-feel-like-I've-got-this-homemaker-thing-down Laundry Days begin on Sunday evening.
So last night we gathered and sorted last week's dirty clothes and I started a load of towels.
(Towels are my favorite Sunday Night Start Load because I can put them in the dryer and they won't clank and knock around if I go to bed before they're finished.)
But last night I almost forgot to put them in the dryer.
When I actually did remember, I felt a flash of pride.  But I opened the dryer to throw them in, and my pride went away.
Fast.
Because there was the load I had accidentally-on-purpose left in the dryer . . . since last week's Laundry Day.
I was tired.  Like, I'd already decided I was done for the night BEFORE I walked past that blankety-blank laundry room and remembered that I needed to switch over the load of towels.
So . . . I consciously rebelled against my newfound understanding of what it takes to have a Super Duper Successful Laundry Day, and deposited that week-old load of sheets and towels on the loveseat.
I know.  The Laundry Hero has fallen.
But it was just ONE LOAD.
Except that this morning when I saw it (only because I have people coming over for lunch today), I realized that ONE load is enough to make the loveseat un-sit-on-able.
So one load, twenty loads . . . what's really the difference?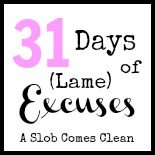 _____________________________
Save