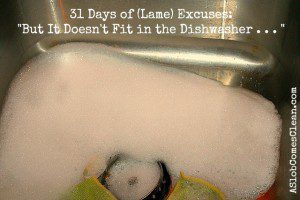 This goes along with my post from last week.  Actually, I took the pictures on the same night.
See . . . in my mind there's doing the dishes.
And then there's doing the big dishes.
For some reason, they're two separate things.
Even though they're not.
Because even if I "do the dishes" but I leave the colander and the baking sheet and the pasta pot in the sink . . .
Then I'm the only person who actually realizes that the dishes have been done.
Which means they're really not done. 
So, the other night when I was soooo tired but talked myself into doing the dishes anyway, I had to give myself another talkin-to about going all the way and filling the sink with soapy water and washing the big stuff too.
And of course, it took ever-so-much LESS time than I expected it would, and I felt ever-so-much better when it was done.
I know all about the importance of doing the dishes.  All of them.  I even wrote a book about it. 
But I still have to recognize all my rationales as excuses sometimes.