This menu plan will be short and sweet!  We're still in baseball/picnic season, but I am completely out of new picnic ideas, so I'm planning to re-do our favorite new one from this season.  Tacos in a bag! Yum!
(Anyone have any more great picnic ideas I can try for our last week of baseball?)
Honestly, I'm so excited about the response to my new e-book, Teaching Kids to Clean, that I was incredibly tempted to not even make a menu plan because I wanted to get started posting in my new summer series on that theme.
But . . . I know better.  Living without a menu plan makes this scatter-brained mama even more scatter-brained . . . and results in a week of not-so-fab meals being thrown together frantically at the last minute.  I'm all about throwing together meals in a minute, but I'm not all about the frantic part, and a menu plan takes care of that!
So here goes.  Our menu plan for the first week of the summer:
Monday – Picnic Tacos in a Bag
Tuesday – Chicken Fried Rice
Wednesday – Baked Potatoes
Thursday – Crockpot chicken over pasta
Friday – Out to Eat
Saturday – Chicken on the grill, baked potatoes and salad
Whew.  Now that's out of the way and I can concentrate on teaching the kids to clean and having a little LOT of summer fun!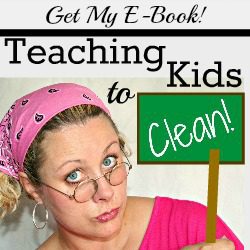 I'll be linking this up to Menu Plan Monday over at OrgJunkie.com!