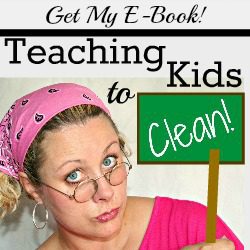 Monday is officially the first day of our Summer of Clean!!!
Around here, we'll be doing Laundry Day combined with a few small projects to help things run more smoothly over the rest of the summer.
How can you participate in the Summer of Clean?
1. Get your free copy of my new e-book, Teaching Kids to Clean.  I'm sorry.  This deal has expired and is no longer free.
2.  Implement it in your home, whatever that means to you. Regardless of your family's schedule, whether you have little kids or big kids or no kids, whether you're a stay-at-home-mom or you work outside the home, my hope is that you'll find resources you can use.  I use the detailed bathroom cleaning checklist myself when I need to stay on track!
3.  Join in the conversation here on the blog posts I'll be sharing several times each week.  Join in daily on Facebook or Twitter.  You can share your successes, your frustrations or your questions.  These are also great places to share ideas that have helped you in your home!
On my Facebook page, I'll post about my own daily progress and you can join in the comments, or you can post on my timeline.  On Twitter, use and follow the hashtag #summerofclean so I can be sure to follow you back!
4.  Each Friday, I'll share our progress in a Weekly Progress Report and host a linky where bloggers can link up your own progress reports and non-bloggers can play along in the comments!
And now, let me take a moment to step up on my soapbox.
Uumph.
Whew.  OK, I'm up here now.
Here's an excerpt from the end of the e-book (in case you haven't downloaded it yet or haven't read all 52 pages):
"What happens when you miss a day?  Or a week?
(I touched on this at the beginning of the e-book, but I feel it's important to talk about it one more time.)
First of all, know that this will happen.  No week is ever exactly the same, and that fact is multiplied by sixty in the summer.
Do what you can on the days and weeks when you can.  Yes, I based this e-book on my own weekly cleaning tasks schedule.  But you don't have to have any schedule or routine at all to use the concepts, checklists and lessons in this e-book.  If you randomly decide one morning that it's Bathroom Cleaning Day . . . that's great!  Get yourself into a teacher mindset, gather your supplies and teach your kids to clean the bathrooms.  Even if it's the only day of the summer that the bathrooms get cleaned, you'll be so glad you did it and your house and family will benefit.  Don't let the assumption that a schedule won't work . . . keep you from cleaning at all.  (I know.  I've been there.)
Maybe you're not ready to tackle ALL of these tasks over the course of this summer.  The summer before I began my deslobification process, I most definitely wasn't ready.  Remember that other e-book I've been shamelessly plugging?  It will help. Note: Teaching Kids to Clean e-book is still available, but my other e-books are now retired. For detailed guides, check out my books:How to Manage Your Home Without Losing Your Mind and Decluttering at the Speed of Life.

If you're a super-duper-organized mama and you're  stressed that teaching your kids to clean will cramp your own cleaning style, use these resources to help you come up with ways to involve your kids in your cleaning routine.  Don't worry, they've been watching and learning from you for years.  Bring them in."
OK.  End of excerpt.  I hope my point was made. I don't want you to feel left behind, overwhelmed or frustrated because you have swimming lessons this week, Vacation Bible School the next, and a family reunion the week after that.
Or even because you needs half the summer just to psych yourself up to do this.  It's okay.  Do what you can, and join in the fun.
Because really . . . it's going to be fun!
Sign up as an email subscriber so you don't miss a thing!