My Room-by-Room blogging buds and I are talking about kids' rooms today.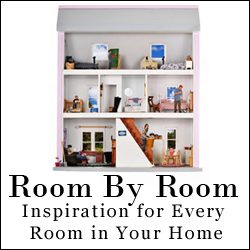 Kids' rooms.
Hmmmm. Month before last, it was the master bedroom and that was traumatic enough.
Now let's add Mommy Guilt to the mix.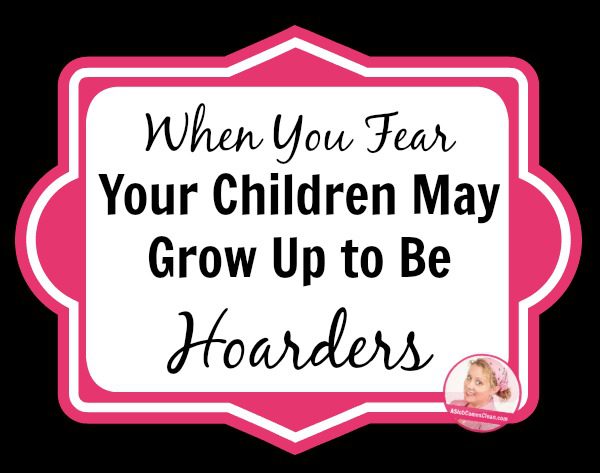 I have purged and re-arranged and organized and re-organized my kids' rooms many times in this never-ending deslobification process of mine.
I've learned a lot, but haven't mastered much.  Here's the thing.  The rest of the house is mine.  Perhaps they will one day need psychotherapy, but I often refer to "my" dishes, "my" carpet, and crumbs on "my" couch.
Their rooms, though . . . are theirs.
And I'm good with that.  Possibly too good with that.  I have an amazing ability to avoid these cluttered spaces and pretend they don't exist simply because I don't have to go in there regularly.  (How I am able to pretend the clutter in my own bedroom doesn't exist is my own issue for psychotherapy.)
The main thing I have observed in people whose kids' rooms never get this way?  Mama helps/directs them to clean their room every . . . single . . . night.
Ouch.
I have observed/learned/accepted this, but I have not put it into practice.  At least not for more than a three-night-spurt before it completely slips my mind and I suddenly realize it's been six weeks since I last thought to be sure they cleaned their rooms.  Our Chore Charts have helped a lot, but even those tend to fizzle during extra busy and distracted times of life.
But things are better.  Hugely better than pre-blog. Their rooms still get out of control (and have never looked like a magazine picture), but . . . they can go for months at a time being completely walk-through-able.
Yes, that's a word.  And yes, that's an accomplishment.
Today, I'll share the thing that has helped prevent/reduce the Extreme Disaster/My Child's Room is a Bio-Hazard Issue.
Limit the Stuff.
When we did a major re-organization of my daughter's room last year, I was ruthless in my quest to get rid of ANY toy that she didn't actually play with.
I've personally realized that A LOT of my own Slob Problem was due to my Love of Random Stuff NOT being combined with an Ability to Handle an Excess of Random Stuff.
Most kids are also that way.
If their room is a foot-deep in strewn-about-and-stepped-upon toys, they're likely spending most of their time in another room.  Y'know, since they can't find anything to play with in their room.
Not only have I donated/sold/given away huge amounts of their stuff, I've also significantly slowed the flow of stuff coming in.
As a former garage-sale-a-holic, I bought countless (literally . . .  countless) toys for pennies (literally . . . PENNIES) on the dollar.
The deals were great, but the results were not.  If they had a different mama, it's possible that they could handle huge numbers of toys, but God gave them me.
And the reality was that even though it seemed worth a measly quarter to see their eyes light up in my moment of motherly indulgence, my eyes glazed over and my heartrate increased as I stood looking into their rooms.  Their rooms with carpet I hadn't seen in months.
I stopped going to garage sales.  I made a point to be more specific and purposeful both in our own gift-giving and in directing loved ones who wanted to buy them gifts.
As I said above, a HUGE part of my own changing process was my realization that not only didn't I need all the stuff I had, but that my personality/Slob-Brain/whatever you want to call it . . . can't handle it.
I do not have the ability to keep a huge amount of stuff organized. And that's okay.  I'd rather live with fewer things (that I'm actually able to enjoy) than everything-I-could-ever-possibly-need . . . but not be able to find anything I because it's one big pile of junk.
I can't guarantee that your kid won't grow up to be on Hoarders. I'm not sure what the defining moment is psychologically that causes people to end up on that show.
But I can say, without a doubt and as a tried-and-true expert in the area of Personal Experience with Too Much Stuff . . . that keeping five items under control is a thousand times easier than keeping five-thousand things under control.
You're the mama, and I know that you can figure out how to apply this concept to your kids' rooms, but because I had many, many more words running through my head on this subject (including some practical tips on how to reduce the stuff in your kids' rooms), I'll be writing more on this subject tomorrow and perhaps even the next day.
Don't miss those posts!  Did you know you can have my posts delivered to your email inbox everyday for free!  Just sign up below!
Check out these other Kid-related posts:
Mama's Laundry Talk is sharing about Getting Children's Laundry Under Control
An Oregon Cottage is giving advice for transitioning from a kid's room to a teen's room.
Stain-Removal 101 is sharing tips for cleaning stuffed animals.