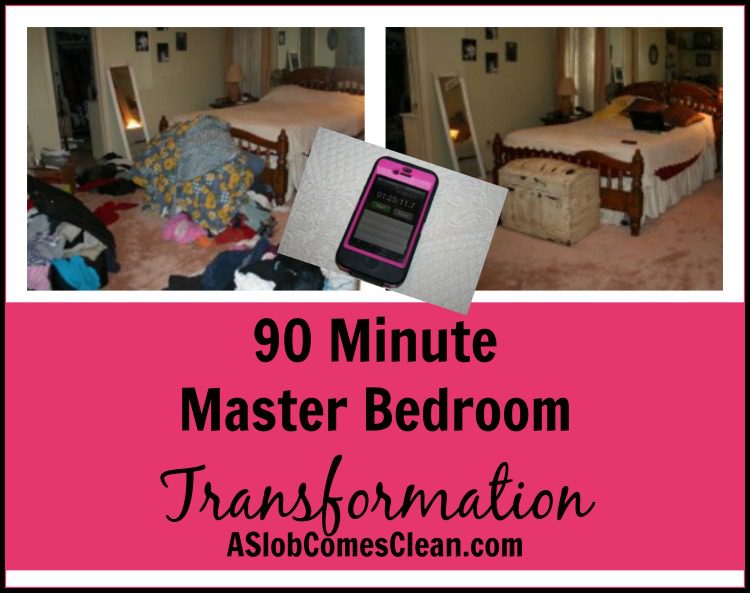 Ninety Minutes. That's it. Just 90 minutes.
After that much time (an hour and twenty-five minutes and eleven-point-seven seconds), my master bedroom looked like this:
Maybe that seems like a lot of time considering the fact that the dresser is still piled with stuff.
Just wait.  I'll show you the before picture(s) here in a minute.
But first, my disclaimer speech:
I didn't want to write this post.  I'm only writing it because I had the bright idea back in January to team up with some blogger friends and create a monthly Room-by-Room thing where we'd go through the house and share organizing, decorating, or cleaning tips for a different room each month.  Then, during my crazy e-book launch last month, those awesome, more-organized-than-I'll-ever-be ladies put together a schedule of rooms . . . and decided to start with the bedroom.
Seriously.  The bedroom.  My arch-nemesis.  The bane of my existence.
The thing that I was so excited to have completely(ish) done after Normal Friend helped me clean it last fall.  The thing that had fallen into just-as-bad-as-it-ever-was disrepair in the last two months or so.
The thing which (thank-you-very-much), I never gave any-advice-whatsoever about in my e-book.
The fact is, there is hope for your home even if your master bedroom is a disaster.  I'm proof.
Anyway, I thought and thought about what advice or inspiration I could possibly give regarding the bedroom.
Since I'm rather anti-pretending-to-be-something-I'm-not, I was stumped.
So I just started cleaning. I used the handy-dandy timer on my iPhone, and just let it run. I had no goal.  I took some overall before pictures, and then started taking before/after pictures of small areas and timing how long each area took to finish.
I didn't rush. Just followed my sorting rule so I could be sure that any progress I made was real progress.  I'll share a few pics (not all 46) with their corresponding times.
From this:
To this:
Took all of eleven minutes:
Then I moved to the next section of floor:
Which took a little over two minutes.
TWO MINUTES!!!
Seriously.
And on and on in short small-area-projects until (after about 30 minutes on Sunday night and another less-than-an-hour session on Monday . . . ), the floors were cleared. Surfaces still need work and there are boxes in a corner that hubby brought home from decluttering his parents' house, but I'd say the overall difference is remarkable.
What do you think?
From this –
To this –
And this –
To this-
This –
To this –
Here's the thing.  I didn't want to work on (and I especially didn't want to blog about) this room because I was so ashamed it had returned to its former horror.
I've made huge progress in the main areas of the house, but my master bedroom continues to experience the Clean Today Disaster Tomorrow phenomenon.
I know what happens. It's Wonder Bra Avalanches.  It's putting away last season's clothes but not putting away the suitcase I use to store them. It's shoving things in and locking the door when I get a fifteen-minute-doorbell-warning.
It's thinking I've cleaned "the house" but never considering that "the house" should include the master bedroom.
So what's my inspiration to share with you?
Less than 90 minutes.
LESS than 90 minutes to a walk-across-able floor.  Less than 90 minutes to an imperfect but welcoming, relaxing, and livable master bedroom.
I know I'm impressed and amazed and inspired by that.
Check out some Master-Bedroom-Themed posts by the other participating bloggers:
Taylor from Stain Removal 101 is sharing a bedroom cleaning checklist you can use for yourself or your kids, when you tell them to "go clean your room" so they know what is expected, and can do it with less supervision and with better results, the first time.
Christine from I Dream of Clean is talking about spring cleaning your bedroom.  (That post will be up first thing Wednesday morning, but go check out her FABulous Spring Cleaning Challenge (with amazing prizes) that's her top post through tonight!)
Lauren from Mama's Laundry Talk is giving advice on tackling the issue that can make maintaining order in the bedroom almost impossible – Get Rid of Clothing Clutter in the Master Bedroom.
Jami from An Oregon Cottage will inspire you with her frugal decorating expertise in a post titled: Shop The House To Refresh A Bedroom.