I don't serve bread every time we have spaghetti, but if I'm in the mood for some loudly-proclaimed-expressions-of-love-and-appreciation, I know that some kind of buttery bread will always do the trick.
This "recipe" is one of our favorites.
And it's quick.
And easy.
A win-win-win.
Ingredients:
One (or two) cans of biscuits
1/4 (ish) cup of grated Parmesan cheese
Half a stick (or so) of butter
Instructions:
Cut the biscuits into quarters using kitchen scissors.
Spread flat in a pie pan or casserole dish.  They really need to be a single layer to cook evenly.  (In the picture, I had used a single can of the small biscuits, and it spread out while cooking to mostly fill a pie pan.)
Melt the butter in a glass measuring cup.  (I usually put it in the microwave for 10-20 seconds at a time on 30-40% power.)
Pour the butter over the biscuits, sprinkle with Parmesan, and stir around to coat.
Bake according the the biscuit instructions on the can, and . . .
Wah-lah!
Yummy, buttery, Parmesan-ey goodness!  (I've also made it with fresh garlic or a sprinkle of garlic salt when I didn't have any Parmesan.)
Our menu plan for this week:
Monday – Grilled Chicken and Broccoli
Tuesday – Asian Salad with Chicken
Wednesday – Mexican Casserole
Thursday – Spaghetti squash and . . . grilled chicken
Friday – Out to Eat!!!
Saturday – Pizza Snowballs
Sunday – Home Groups (Someone else is cooking!)
My favorite tool that's totally necessary for this recipe:

FYI, this recipe is included in the two week plan that I teach you in Make Dinner Happen, the least fancy, most practical cooking course ever. You can learn more and see what recipes are included here.
I'll be linking this up to Menu Plan Monday over at OrgJunkie.com.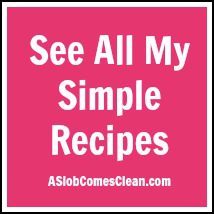 Save