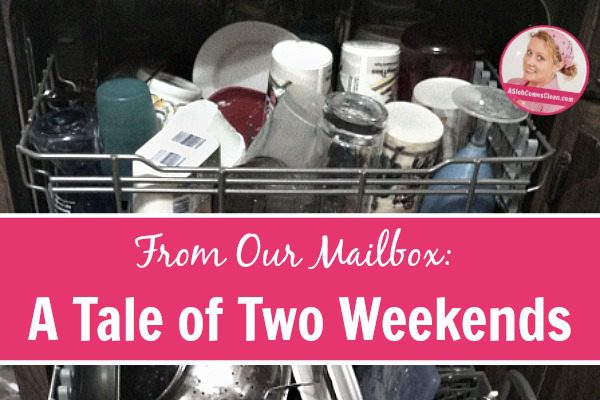 Last Monday, as I was trying to get ahead on posts so I could take this week off for Spring Break with my family, I checked my email.
Right there in my inbox was an email from Erin.  It was probably the most creative email I've ever had, and I immediately replied and asked if I could publish it as a guest post.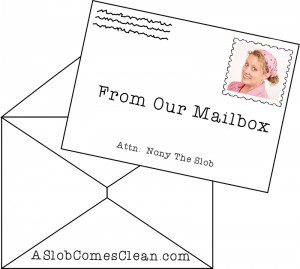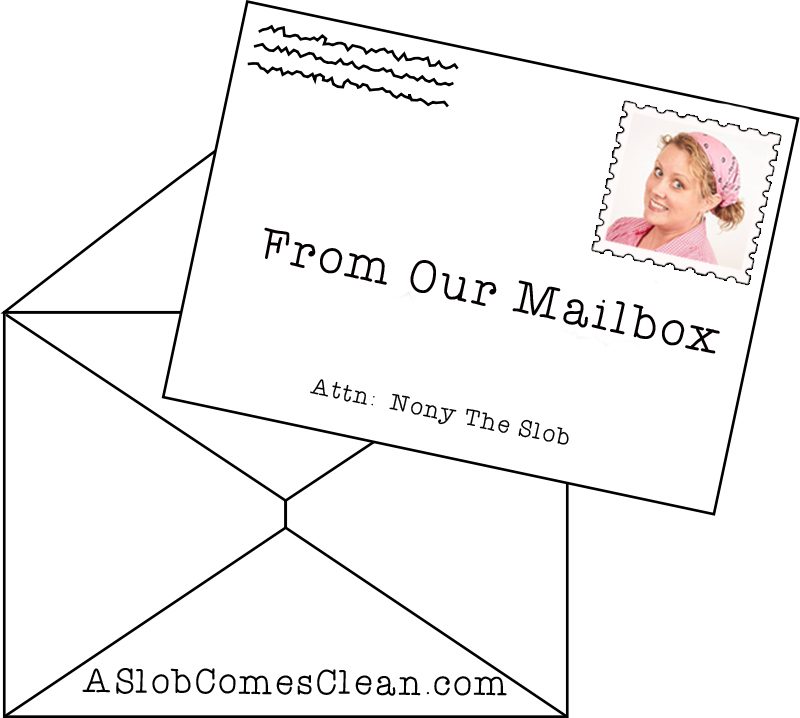 It's creative, it's well-written . . . and it's about my e-book.
Here it is:
Hi Nony!
I've been reading your blog for a few months now and last week I purchased your e-book. I wanted to give you some feedback about that and tell you a "Tale of Two Weekends."
I almost didn't buy your book. I've been on a "deslobification" journey for about three years and I have to pat myself on the back and say that I've come a long way, baby! My home is so much more peaceful than what it used to be.
When it came to buying your book I thought, "I'm doing pretty good with this, do I really NEED her book?" But it was on sale, and I was curious, and I wanted to know if it might be a good resource to recommend to others.
So I bought it on Wednesday night at about 9pm. And, as you already knew I would, I read the whole book that night.
I was a little annoyed that you wanted me to clean up the kitchen. (You are so bossy! Sheesh!) I really wanted to not worry about the dishes and instead lay on the couch and watch reruns of "Friends." So which did I choose – the dishes or "Friends"?
Let's play out both scenarios…
Weekend Scenario #1 – What could have been
Wednesday night: I decide to watch TV instead of do the dishes. After all, there aren't THAT many dishes, right? I can do them tomorrow.
Thursday: While at work, I realize that the birthday box I was going to shop for, pack and send out over the weekend really needs to done THAT NIGHT if it is going to arrive on time and without me paying $50 for overnight shipping. This means I have to go to the store right after work, with my five-year-old.
Which means that, after an hour of shopping with a whiny child, we are both hungry and crabby. I grab a quick dinner from the store and we get home at 7pm, when I have the joy of  walking into a messy kitchen.
So now I am crabby and hungry and frustrated that there is no counter space available. We get our dinner (while still being crabby with each other and fighting for space to dish out what we want from our store-bought meal) and then I move my focus to the birthday box. Since I can't spread everything out on the counter the whole process is much more frustrating but I eventually get everything wrapped and packed up.
Then I take a look at the kitchen and the table, and everything is such a mess and I am still in a bad mood, so I decide to leave everything as is.
I just don't have the energy to clean it all up.
Friday: I wake up to a messy kitchen but think "Oh well, tomorrow is Saturday, I will clean it then." On Friday night I get home from work and then we rush out the door to go our church home group. We get home late that night and I do my best to ignore the mess as I make a beeline through the kitchen to my bed.
Saturday: My husband decides to make pancakes for breakfast which means that all dirty dishes are shoved on top of each other to make room on the counter for the electric griddle. I'm a little annoyed that prep bowls and plates with sticky syrup are left on the counter as we rush out the door to take the van into the shop on our way to soccer practice. After soccer we grab some lunch, run some errands and go grocery shopping, and in the midst of all this I get the worst menstrual cramps known to womankind. To say that I am in a bad mood when we get back home at 2pm is an understatement. And to top it off, my kitchen is still a mess from three days of dishes and all the birthday box supplies. And now there REALLY is no counter space which is not helpful for putting away groceries.
I tackle the kitchen and get it cleaned up, but it takes all of my energy and I'm just in an all-around grumpy mood. So I put on my pajama pants and spend the rest of the afternoon lounging around because I deserve it after all that effort. Dinner time rolls around and I don't want to think about cooking, so we have frozen pizza.
Sunday: After church and lunch out with friends, we arrive home and I realize that I haven't accomplished much with my weekend. I feel a bit squeezed as I think about the laundry that needs to be done, and I haven't even thought about what prep work needs to be done for meals that week.
I'm already tired and the week hasn't even started yet!
Weekend Scenario #2 – What really happened
Wednesday night: I don't want to do the dishes, but I know that really, it won't take as long to get them done as it feels like it will take. So I buck up and do them. I empty the clean dishes out of the dishwasher, fill it up with the dirty dishes, and run it. I even do the hand wash only dishes that have been sitting on the counter for a week and I wipe down the counters. And while I'm at it I take a minute to clear off the table and put things away (or throw them away.) That took all of 15 minutes and there is still plenty of time to sit on the couch and watch the rest of the "Friends" episode.
Thursday morning: I get up and (because Nony is so bossy and insistent) decide to empty the dishwasher. I normally do not do this in the morning before work because, really, don't I have an excuse? I'm a working mom and I just don't have time for that nonsense in the morning. Except that, if I am honest with myself, it only takes five minutes to empty it. And don't I spend at least five minutes checking Facebook in the morning? When I face the facts I realize that I really don't have an excuse. So I empty the dishwasher, and lo and behold, I actually have another 60 seconds in my busy schedule to put the breakfast/lunch-making dishes in the emptied dishwasher. And as long as I'm doing all that I might as well wipe down the counters.
Thursday night: When I arrive home from my shopping expedition I am tired and crabby. But the sight of a clean kitchen is welcoming and at least there is counter space to hold my purchases and our store-bought dinner. After we eat, I spread my birthday surprises and supplies out on the table and the kitchen counters and work on packing my box. When I'm done, it's easy to clean up the birthday box mess because it's not mixed in with a bunch of other mess. It's also easy to put the few dinner dishes in the emptied out dishwasher. (Oh yeah, and wipe down the counters.)
Friday night: We rush out the door to our home group. When we come home I breath a sigh of relief that my kitchen is clean.
Saturday: My husband decides to make pancakes. There is plenty of counter space for the griddle. I am excited that he took initiative to make breakfast on a Saturday and I take time to enjoy my pancakes. When we are done with breakfast, I take two minutes to put all the dishes in the dishwasher and wipe down the griddle and the counters. The dishwasher is now full so I run it before we rush out the door to take the van into the shop on the way to soccer practice.
When we arrive home after a morning of errands, grocery shopping, and the worst menstrual cramps known to womankind, I am a bit crabby and annoyed. But putting away the groceries is easy because the kitchen is clean. I take some ibuprofen and realize that I might have some energy to get a few things accomplished. I empty the now-clean dishwasher. I take laundry to the basement and get a load started. I change the sheets on our bed and wipe down the bathroom. I do a five minute pick-up in the living room. I fold a load of clean laundry that's been sitting in the hallway for two weeks. (And it takes me all of five minutes to fold it and put it away. Why did I put that off for so long?) I do two more loads of laundry that afternoon (washed, dried, folded AND put away!) and decide to make chicken stir fry (with lots of yummy veggies!) for dinner, plus cook a bunch of veggies for dinners for the week ahead. I open the refrigerator and notice that there are several science experiments that need to be clean out. Since the dishwasher is empty and there is space for the containers, I can take action right then and clean out the refrigerator instead of thinking that I'll have to get to that later. As I work in the kitchen I am able to clean up as I go along and at the end of the night it is easy to wind up with a clean kitchen!
Sunday: Before church I put our breakfast dishes in the dishwasher and run it. When we get home I feel good about my productive Saturday and relish the idea that my laundry is caught up and my kitchen is clean. I decide that I have energy to cook several things ahead for the week, so I take five minutes to empty the dishwasher in order to have a place for all the dishes I will dirty. Then I proceed to make 20+ breakfast burritos (to freeze) plus two complete dinners for the upcoming week, plus dinner for Sunday night. I end the night on the couch, watching TV in my pajamas, knowing that I will run the dishwasher before bed and have clean dishes in the morning.
THE END
Epilogue: Monday mornings are usually rushed for me, and today was no exception, but I did make it a priority to take three minutes (literally, I timed it) to empty the dishwasher. After last week and seeing the HUGE difference that can make for my overall productivity and outlook, I realize that I need to make that my number one priority!! Thank you, thank you, thank you!
I'm not sure how much email you get and if you are still reading at this point, but even if you aren't this has been so helpful for me to type this out and really see the difference in how my weekend could have gone if I had not taken those few minutes to clean up on Wednesday night/Thursday morning.
I honestly didn't think that your ebook would make a difference for me but I was wrong – oh so very, terribly wrong!! Thanks for taking the time to write it and refine it and actually put it out there for people to purchase!!
About Erin:
Erin Kinzel is a wife, a mom, a marketer, a former blogger, and she'd like to believe she is also an avid reader and gourmet cook. She has a day job at Bethel College as the Assistant Director of Marketing and on evenings and weekends she sells Starfish Jewelry. She also has an empty dishwasher which is now her most important daily accomplishment.
Save