This post has been rattling around in my head since I started blogging. But my dilemma? Since stir-fry is supposed to be so easy, would anyone want to see a post/tutorial on it?
But as I began making some last week, I decided that I would write this post, since after all, it took me years to figure out my own tips and tricks for making a good chicken stir-fry, and I would have liked to have had some basic instructions myself.
If you're a regular reader, you know that I lived in Thailand for two years after college. But any cooking I did there was definitely not Asian. There really was no point in learning to make Thai/Asian food at home since it was so cheap, plentiful, and delicious. At least as a 22-24 year old, I didn't see any point in it.
My husband and I got married 20 days after I moved back to the States, and although he loves Chinese food, I wouldn't make any or even go to an Asian restaurant for a year. I had missed my Chili's too much.
But finally, I readjusted and decided to try. And I failed. Big time. I could never get it to turn out well.
So after years of trial-and-error and reading of instructions and recipes, here are the tips and tricks that I have come up with that have made chicken stir-fry, in various forms, one of our very top family-favorite meals.

My first big tip is to cut your chicken into small pieces. Smaller than you think. Bite-size is too big. Think small enough that one bite could include a piece or two of chicken, some rice and some veggies.
If your chicken pieces are as big as the top part of your thumb, they're too big. Cut that in half. Thin and/or small is important. It helps them cook more quickly. Also, if the pieces of chicken are small, the chicken becomes part of the dish as a whole, not overpowering the other ingredients.

In a large skillet, heat some vegetable oil on medium high heat. I generally use about 3 tablespoons. After the oil is heated, add the chicken with onions and fresh garlic. You could go ahead and season with some more traditional Asian spices at this point, but I like to keep it basic so that I can do enough for two meals, and take out half once the chicken is cooked. Then I freeze the extra cooked chicken to make other meals later.
While the chicken is cooking (and you're stirring frequently) start on this next trick. (Notice that I called the cut-into-small-pieces advice a "tip" and am calling this a "trick.") This is totally my idea, and I do it to make things go faster, and because I don't like my veggies crunchy in stir-fry.
After I have the chicken on the stove, I put a bag of steamer veggies in the microwave. I often use broccoli, but if I happen to get Chinese mixed veggies on sale, I'll use them.

This is actually a bag that was not frozen, but was in the salad section. The directions on the bag said that you can poke a hole in it and steam it in the microwave. I think the directions said 3-4 minutes, so I did it for three, since it would continue to cook a little when I put it into the stir-fry. If you like your veggies a little crunchy, you could just microwave it for 2 minutes.
Once your veggies are steaming in the microwave, keep stirring your chicken here and there while you make your sauce.
This totally-made-up-by-me sauce is probably not authentic at all, but we love it. I made this dish once for a friend and she called later to get the recipe for that "fabulous" sauce, so evidently we're not the only ones who like it.
In my two-cup measuring cup, I put one-half cup of soy sauce.

I then fill up the measuring cup with water, so I guess it's one and a half cups of water.

I don't recommend trying to imitate the above picture exactly. 99.999% of the time, if you hold a measuring cup full of soy sauce/water mixture sideways, it will spill out all over your counter. I'm just really talented.
I also add a "dash" of garlic salt to the soy sauce/water. For the purpose of this post, I used 1/4 tsp. Basically, to taste. If you have other flavors you want to add, this would be a good place to put them in.


Once the chicken is done, add 1 tablespoon of corn starch to the soy sauce/water mixture. Use a whisk to blend it in. It will look like this:

If you find that you put the corn starch in too early, as in not just before adding to the skillet, you'll want to stir it again. It settles very quickly, but it needs to be suspended when you add it, to avoid lumps.

Now that the chicken is fully cooked, remove any extra that you want to save for a different meal in the future, and push the chicken to the sides. This is where a wok comes in handy. You can push the chicken up the sides and away from the heat, and the chicken stops cooking while you're working on the sauce, or other ingredients.
(I used to have an electric wok, but people like me (slobs) tend to do things like pack the wok in a different box from the wok's cord when they move. Then they tend to never get the two back together and end up throwing away the cord in one of those, "Aaaah, I can't handle all this STUFF anymore and what does this stupid cord go to anyway?!" moments.)
Stir the sauce constantly until it starts to thicken and bubbles a little. Once it becomes thicker, or honestly – slimy – it's ready. Mix the chicken back in and add your steamed veggies. Stir until it's all coated with the sauce, and you're done. Serve over rice.
My one other tip, or really trick, is a Mommy one. Since the veggies are nice and soft, use your spatula to break them, particularly broccoli, up into small pieces. They'll blend in with the sauce and chicken, and little people won't notice or pick them out as much. And even if they try, they'll still get little bits and pieces into them.
My 3 kids all get excited when I make this, and no one even complains about the green stuff. Another version is to follow all the same steps, but instead of serving over rice, cook some packages of ramen noodles (I do one per person). Don't add the ramen seasoning. Drain the noodles and add at the end, mixing it all together and serving as a one-dish meal.
I'm linking this up to:
And I'm linking up to Tiffany's Ingredient Spotlight over at Eat at Home. Tiffany is a great mom and I love her real-life recipes designed to make cooking at home accessible.
I buy 40 lbs of chicken at one time for a great price (yes, that was an affiliate link!) and see how I manage 40 lbs of chicken here.
I am so sorry to say that it seems Zaycon has gone out of business. I say "seems" because the information I've seen says they've "suspended" operations and I don't fully understand what is happening. I'm so so sad about this since this will change how our family keeps our freezer stocked with meat. We've been ordering almost all of our chicken, bacon, and shrimp for them for more than five years. If you had ordered recently, I recommend that you call your credit card company or bank (for debit cards) to see what can be done. I've heard many people have had success doing this.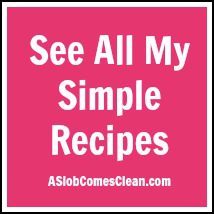 Save
Save