It's summer.  And because it's summer (and summer is fun), I haven't written this post that I've been meaning to write . . . since summer began.
A big part of success in any endeavor, especially one where I'm trying to maintain routine in the midst of a lack of routine, is preparation.  A few days before summer began,  I realized that I hadn't yet purchased the timers I was planning to use.  I knew I needed to get them, and quickly, if I was going to implement the once-you've –completed-your-daily-checklist-you-can-go-watch-TV/play-the-Wii-until-your-timer-goes-off idea.
I realized I should check Amazon and use the giftcards I had earned through Swagbucks.  (What? You don't know about swagbucks?  Go read here.)   I found these Digital Timers
that looked good for a great price, and just happened to scroll down and notice that they were part of a Buy Three Get a Fourth Free deal.  Since I was buying one for each of my three kids anyway, I thought I'd get a fourth for myself.  I use my oven timer regularly, but it might be nice to have one I can carry around.
The ones I purchased have magnets on the back and can time going up or down.  The only issue I've found might be that you can't take minutes OFF of the time you're setting.  For example, a child who is setting it for 60 minutes and accidentally lets it go to 62 MIGHT then start again.  And since it beeps as you're setting it, that child's mother who is in the next room MIGHT incorrectly assume that the child is just letting it beep endlessly with the sole purpose of getting on the mother's nerves.  She might not check to find out what is really going on before she yells (without getting up) to STOP JUST LETTING IT BEEP!  Then she most definitely will feel guilty when she learns what was really going on.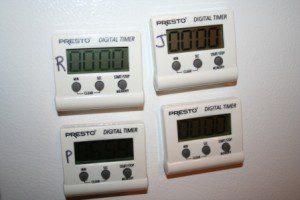 Other than that totally-hypothetical concern, the timers are great.  I've labeled them with the kids' initals, and they're learning a lot about time-budgeting by using them.   Here are our rules and guidelines.
Each child gets 90 minutes of screen time (includes Wii or TV).
Minutes don't carry over to the next day if you don't use them.
Minutes are non-transferrable.
Minutes are not guaranteed.  TV does not take priority over family activities.
I love seeing how my kids are learning to budget their time.  Where we live, mornings are the only time cool enough for playing outside (other than swimming).  They figured out early (with my encouragement) that it makes a lot more sense to play basketball first thing in the morning and save screen-time for after-lunch/before-we-head-to-the-pool time.
I have normal friends who use timers with their kids all the time.  Following their lead, and due to my Flylady experience, I do use the one on my oven (which is so loud it can probably be heard by the neighbors).
But I love having individual ones for the kids.
While the purpose is to give me a way to control their TV time, these timers work because they put the control (literally) in the kids' own hands.
Yes, this post contains affiliate links.