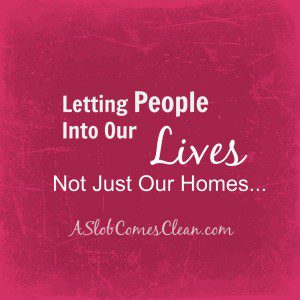 Today is a strange day in my deslobification process.
I'm having lots of warm fuzzies over the fact that I have extra laundry to do and am storing a rather large piece of furniture in my garage.
I've shared recently that my husband's sister is moving.
Moving stinks.  
The upheaval, the physical exertion, and the emotional stress make it a miserable experience.  Even when there's excitement and a new home and a better environment on the other side, the in-the-middle-of-the-move time isn't fun.
On Saturday, we helped them have a final garage sale, and were thrilled when ALL of the big stuff sold.  The Salvation Army donation haul was amazingly minimal.
Movers had come earlier in the week and moved all of the furniture they wanted to keep into storage, but one (big) piece was left behind.  My brother-in-law was sick about it.  He couldn't believe that he forgot to have them take the custom-made chest of drawers out of the closet.  He hated to leave it behind, but had no place he could take it for now, since it is heavy enough that two strong men are required to move it.
Forgetting something?  I totally understand that.
When he asked if there was any way that we could store it for the next month, I thought for a second and then said, "Sure!"


Because we could.
We actually have room in our garage right now to temporarily store the chest, AND still be able to park our Suburban.
They hauled it here, and he and hubby put it in a perfectly normal-people-type of spot.
It felt so good to be able to help them out.  It really is a little thing, but pre-blog, I'm not sure what I would have said.  We truly wouldn't have had the room back then.  And even if I could have shoved things into an (even bigger) pile to make room, the shame of having them see our garage would have been intense.  Just thinking about it, I have a tinge of the headache that I get in these types of situations.
And the laundry?  I actually volunteered to have them drop it off this morning so I could just do it with ours today.  Y'know, since I have a Laundry Day now.  I probably would have offered the same thing before, but my motive would have been to keep them from seeing my laundry room.  
It feels good to have pure motives.
Sometimes, as I get the "company" areas of my home under control, I have a hard time seeing the point in getting every last section of the house under control as well.  If we are the only ones who ever see the garage or laundry room, what's the point of keeping them clean?  I am quite adept at making scary-room-redirection part of my hostess duties.
It's for times like this.  Times when people need to not just be planned-for guests, but need to share in our lives.  Our everyday lives.  Our undie-washing and car-parking lives.
I'm linking this up to the homemaking link-up over at Raising Homemakers.
Save