Total departure from the "journey to an orderly home" thing here.
But hey, when you have a sudden inspiration to make your very favorite and easy dip, you actually have the ingredients on hand, and you have a blog. . . it kind of makes sense that you should take a picture and write it up.
Right?
First, let me acknowledge the elephant in the room and say that I am fully aware that it looks . . . well . . . kind of disgusting.
That's actually a part of my story.
I'm a picky eater, and I didn't like olives until I was in my twenties. The fact that I had never actually tried them had something to do with that.
Anyway, when I lived in Thailand, I attended a Chr
istmas Pool Party. Christmas falls in the Hot Season, which is the coolest of their three. (The other two are Hotter Season and Hottest Season.) Out by the pool, it was dark. Really dark. I went through the line filling my plate and had no idea what I was getting. I started eating, and suddenly had to stop my conversation to exclaim that I had just eaten the best thing I'd ever put in my mouth.
I couldn't see it, and I'd never tasted anything like it before, so I spent the rest of the party asking everyone I saw what it was and who had made it, which was hard to do because I didn't want to give them a taste, but that meant I had to lure them to some light to try to see it.
Turns out, it was olive dip. And it's about the easiest recipe ever.
It only has three ingredients:
One 8 oz package of cream cheese.
1/2 cup of chopped green olives.
1/2 cup of chopped pecans.
The key is to fill your 1/2 cup measuring cup
with the chopped olives, and then pour the juice from the olives to fill up all the little spaces between them. Make sense? It's this juice mixing in with the cream cheese that makes the dip so fabulous.
Mix it all together, and serve with crackers or veggie sticks.
You can form it like a cheese-ball, but I generally add in extra juice so it makes it more of a dip consistency.
The very best thing about this dip is that you can take it to a party, and no one will eat it because it looks so awful. Then, you can take it home and have it all to yourself!
I'm linking this very old post to Kelly's Korner Blog for Show Us Your Life recipe link-up.  If you're new here, be sure to check out my About page to find out what my deslobification journey is all about!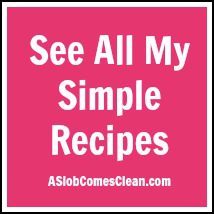 Save