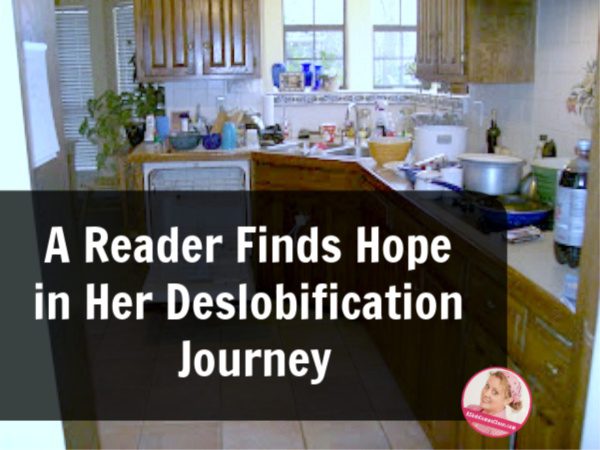 I don't have much to say to introduce this one, other than that stories like this one make all of this crazy made-up job worthwhile. I'm so thankful for the hope I found and the hope others can find.
Hi Dana,

I've been mentally writing this email for the last year. 🙂

I've known about your blog for many years and occasionally stopped by from time to time, but I always told myself that when I was "ready" I would sit down and

read it systematically

so I could learn everything the "right way" and change for good. (Ha!)

A year ago I met a new friend who 

unexpectedly 

came over to my house (in all its Slob Glory) one day. I was mortified and wondering what she must think of me. Before she left, she invited us over for lunch at their house after church that Sunday. As we sat at her kitchen table a few days later, she confessed, "I never have people over, but when I saw what your house looked like the other day, I knew I could have you over at ours." I mentioned your

book

to her and that I still hadn't read the copy I'd owned for a year (or two?). She was intrigued and we decided right then that she would

get a copy

and we would read through it together. Neither of us thought it would really make a difference.

We started texting each other every day with "Slob Reports" including pictures of every area in our houses. We sent each other quotes from your book and your blog. Over and over, we reminded each other, "The difference this time is that we aren't giving up!" That was last November, I think. I'll spare you most of the play-by-play (you're welcome), but there are some things I think you should know:

Until I met my friend (and you through your book) I had never known another Slob. Everyone else I know is

Normal

. As I read through each chapter, I laughed (a lot) and cried (occasionally) and nodded enthusiastically because someone finally "gets" me and, not only that, but she's actually successful at this whole Deslobification thing!

Dana, you gave me hope. I'm not just talking about "hope that there will be clean underwear in my drawer" (which there is, thanks to you), but real, fearlessly-moving-forward-with-my-life hope.

(Nutshell Back Story: My husband left us 6 years ago, when I was pregnant with our 4th child. It's been a rough ride, but I'm so thankful for how our family has seen Jesus' sufficiency in such tangible ways.)

For the first time in my life, I feel like a capable adult and I am enjoying the freedom to pursue projects (like freezer batch cooking, and teaching theater, and homeschooling my kids, and being in a play with all of them and . . . life) that would never have been possible, much less relatively stress-free before my Deslobification journey.

My house still has days (and occasional weeks) of being in Disaster Status, but now

I know where to start

when it's time to get things back under control. Speaking of…I need to go do the dishes now. 🙂

THANK YOU.