This post is sponsored by Swiffer and Febreze!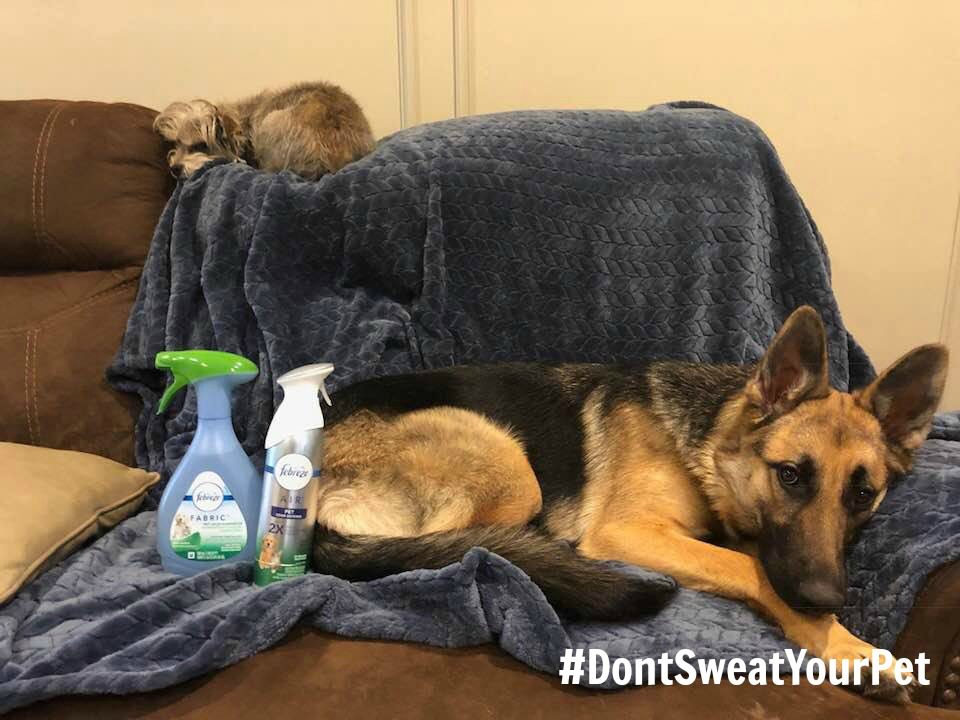 If you want to be fascinating, get a dog.
Cinder thinks I'm the most interesting person on the planet.
This is what I found when I left the bathroom. (I won't share the photo I could have taken a few minutes before.)
She couldn't wait to see me.
I'm also fascinating when I eat. And when I cook.
Or sneeze. Or walk within six feet of the front door. Or glance in the direction of her leash.
It's mostly cute, except for times like the moment between those two photos above when she took a bite of my sandwich while my head was turned.
Anyway . . . before Cinder joined our family, I was nervous about getting a second pet. Scruffy sheds, but not much. Her main goal in life is to make us happy. She's little and sweet and obedient. What if another dog wasn't all of these things?
What if the new dog barked incessantly, peed everywhere, and just wasn't as easy a puppy as Scruffy was?
I won't say I needn't have worried. While Cinder isn't a non-stop barker and she has been fairly easy to house train, she isn't easy.
She's strong willed and big enough that when she gets excited she can knock over furniture or full-grown adults.
She also sheds like nobody's business. Seriously. It's shocking.
But, I can say, it's worth the hassle. I'm beyond in love.
Training her is much harder than the single stern word that kept Scruffy from ever trying the same shenanigan twice, but I'm willing to do the work.
There are realities to adding pets to a family that do need to be considered before bringing them into your home. I'm personally spending a lot of money on dog training sessions and desperately searching the internet for "how to get your dog to stop fill-in-the-blanking" on a weekly basis.
But I can tell you that my Swiffer and Febreze come in very handy when it comes to the messes that my dogs create.
I shared last month that my Swiffer WetJet saves my sanity during icky and wet winter weather by letting me clean up the paw prints easily. I am thankful to be able to report that Cinder has come a LONG way since then and will now (usually) stay (mostly) still so I can clean her paws when she comes in after it has been wet outside.
But I also have to mention . . . the aroma.
Rain plus dogs (who have to go outside, ifyaknowwhatimean) means wet dogs.
And "wet dog" is its own special scent. But don't let this be the reality that scares you off from adding a pet to your family. There is help!
Febreze and Swiffer both have new pet lines, available at Kroger, to help you deal with the shedding and smell issues.
I love Febreze's unscented fabric refresher, but their Pet version is very lightly scented and works extra hard on the extra difficult odor pets create. And when I say lightly scented, I do mean it. Y'all know I'm sensitive to smells, and I can barely smell the scent after spraying it. Even when sitting on the couch I just sprayed!
And Swiffer helps fight the shedding and odor together with their new Dusters Heavy Duty Pet Refills and/or Sweeper Dry and Wet Pet Refills with Febreze Odor Defense.
And yes. About the first photo. Not getting on the couch is a battle we gave up on fighting. She's just so stinkin' cute like that.
Share the pet-related cleaning struggle that stresses you out the most (or just say hi) in the comments to be entered to win a $50 prize package of Swiffer and Febreze products! Continental U.S. only (sorry!), must comment here on the site, giveaway will close Feb. 8, 2019 at 9 p.m. Central. Winner must respond to my email within 48 hours or I will have to choose another winner. See all my giveaway policies here. 
--Nony