I was looking through some reader stories, and realized so many were directly related to the two podcast episodes I did last year on decluttering dreams. The intense responses to those episodes led me to write a chapter in Decluttering at the Speed of Life on this subject, which, honestly . . . is the root of so many sentimental attachments to clutter.
Hi, Dana!
I've been listening to your podcasts for a while now. You're kind of like my friend in the kitchen…who I listen to over and over. (Oh, and I love that you don't edit!)
I wanted to thank you for your last podcast about decluttering dreams.
I was told years ago that I couldn't have children. For a number of years I kept a bag of maternity clothes in my closet-"just in case."
Getting rid of those clothes required some grieving. Giving them up was, in a sense, acknowledging that I might not ever get pregnant. Keeping things that continually reminded me of disappointment  was holding me back from the life and joy I had in the present. Every time I looked at that bag I was reminded of the ache of not being able to bear a child. I decided to give the bag away. Yes, I cried.
But, I've come to the point to where I realized that If God wants my dreams to come true, He can do it without my stuff.
And,  if I had gotten pregnant I probably wouldn't have wanted to wear those styles anyway. 🙂
I loved your thoughts and felt you were spot on and very validating. Sometimes being able acknowledge grief helps to move on. I've experienced big things, like infertility and my mom dying when I was eighteen. But I feel that it's still really helpful and needful to work through the disappointment, and in some sense, grief regarding the "little" things.
So yay for being real!
Thanks,
Kara
p.s. Today I have two daughters who we adopted.  Sometimes God's dreams for us are just as good (if not better) than what we dream for ourselves.
p.s.s By the way, my four year old just saw your picture on the email and shouted "It's HER! Tell her we love her!!"
So, congratulations…you have made celebrity status in our home.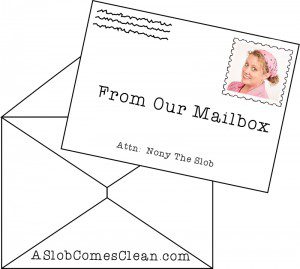 Save