I'm good on dishes.
Meaning, we have what we need.
And "what we need" is a whole lot less than what I used to think we needed.
After years of believing in my heart-of-slob-hearts that my real problem was that I didn't have enough plates or cups or bowls, I realized I was wrong. Once I started to trust myself to actually wash  my dishes every single day, I saw my Dishes Situation differently. I saw that I had enough.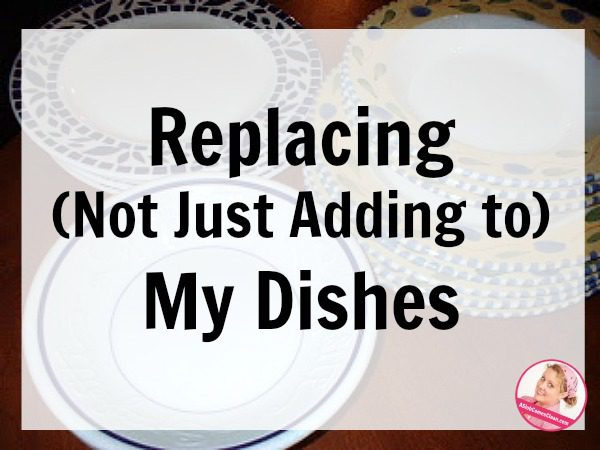 One big clue: I used the same favorite dishes every day because they were clean every day. Meanwhile, less favorite dishes sat untouched in the cabinet.
Another big clue: Hubby stopped putting "paper plates" on our grocery lists. Even though, pre-deslobification, they were on the list every single week.
That's right. I had multiple full sets of dishes and still needed paper plates to survive. 
Why does this matter for today's post? I know that the dishes in our cabinet are all we need.
This meant I needed to use my decluttering-progress-maintenance strategy of "Replace. Don't Add" when putting away the new set of dishes I got for Christmas. (Here is an affiliate link to the dishes I got.)
A container is meant to contain, to limit the amount of stuff that can fit comfortably in a space.
My cabinet is a container. Its size determines how many dishes I can keep.
It was easy to replace cracked and dingy bowls with my new ones, but it was hard to replace perfectly fine bowls.
I had to decide which were container worthy. I decided on my new ones. My new lighter, less-prone-to-scratching ones.
But when it came to my new small plates, I didn't have anything to replace. I'd chosen that set (for Hubby to give me) specifically because I wanted some small plates.
So I exchanged space for space. The Corelle small plates took the space where I used to keep my no-longer-great dinner plates. And since the Corelle plates are so thin, the dinner plates I got stacked easily on top of the other Corelle dinner plates I had. Yay for everything fitting easily.
But then, when editing the video for this, I realized that would have looked like a ridiculously small number of dishes to the person I used to be.
If you can't even comprehend only having this many dishes, I totally understand. You might need my first book, How to Manage Your Home Without Losing Your Mind. 
But if you're thinking replacing some dishes is nothing compared to the decluttering you need to do, you totally need my book Decluttering at the Speed of Life which is available wherever books are sold!
If you don't see the video at the top of the post, click here to watch it on YouTube.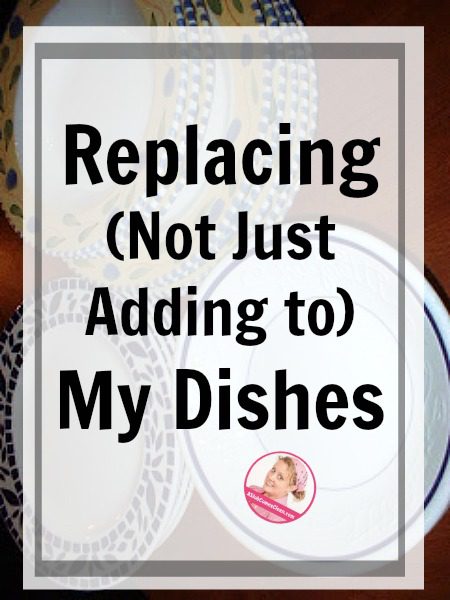 --Nony