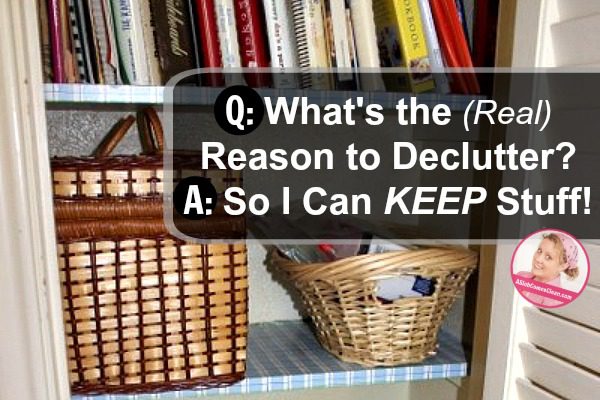 This week (the week between Christmas Day and New Year's Day) is the biggest decluttering week of the entire year.
Really.
I know because internet searches double (sometimes even quadruple) that send people to my site.
Decluttering energy rises as people put away their new stuff, but then it wanes when life happens.
If you fear that happening to you, focus on the real reason for decluttering.
To keep stuff.
The stuff you like.
In a way that lets you enjoy it, remember you have it, and actually be able to use it.
My decluttering strategies don't involve pulling everything out of a space at one time. Instead, I pull out one item at a time and make a final decision about that item. I take it to its home, trash, or donate it.
Then I pull out another item. And another. And another.
And a crazy thing happens. At some point, the space shifts. Instead of feeling crowded and cluttered, it feels open and spacious. And I shift from feeling like I'm yanking out pieces of  my soul to feeling like I have room to honor the things I love. The things I've kept.
Once the clutter is gone, I can see the stuff I like. I can find it. I can use it. Even if "using it" just means experiencing a happy flutter inside when I walk by.
And the absence of an ambiguous weight of clutter on my heart means I can breathe. And relax. And not feel guilty about keeping the stuff I love.
Or guilty about loving that stuff.