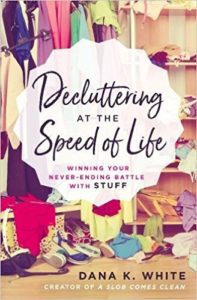 Pre-Order Decluttering at the Speed of Life and get started decluttering now with The 5 Day Clutter Shakedown!
The 5 Day Clutter Shakedown is a five-part video course that uses strategies from Decluttering at the Speed of Life to help you go ahead and start tackling your clutter.
While the course is designed for video, we're also including an audio-only file and a PDF transcript of each day's video to help those with different learning styles (or less-than-ideal internet connections) be successful.
Decluttering at the Speed of Life dives deep into the emotional struggles declutterers face and works systematically through the spaces in your home.
As you work through the 5 Day Clutter Shakedown, you'll get to know the steps to working through an overwhelming mess. You'll see progress in your home, and you'll be ready to dive in when you get your book in February.
To get access to the video course, you must fill out the form below. All you will need is the order number. Retailers don't share your information with us, so this form is THE ONLY WAY for us to deliver this bonus content to you! After you submit form, you'll immediately see the link to the course and a special coupon code that will make The 5 Day Clutter Shakedown (normally $30) totally free for you! And you can start working through it right away because it's an online course!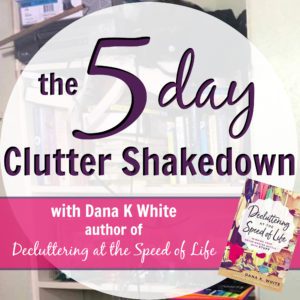 Steps to claim The 5 Day Clutter Shakedown as a free pre-order bonus:
Step One: Pre-order Decluttering at the Speed of Life from your favorite retailer.
For your convenience, here are direct links to the book on multiple retailers.
2. Fill out this form with your order information. (If you don't see the form embedded below, click here to get to it.)
3. Click on the link that appears after you submit your form. That's where you'll find all the information you need to claim your bonus.
4. Watch your email for future bonuses!