It's still March, right? Which  means it's still #trypod month!
What's #trypod month? It's a newly made-up thing where people are encouraging others to listen to podcasts. Strangely, there are a wholotta people who have no idea what a podcast is, and definitely have no idea how to listen to one.
And it's not even an age thing. My niece, who is 29, and infinitely cooler than me, had no clue what they were until I explained them to her.
And then a few months later, she asked me to re-explain.
Which made me decide that to do my part in #trypod month, I'm going to explain, in detail, how to listen to a podcast.
First, what is a podcast?
It's like a radio show, but it's not the radio. You listen to it, like talk radio, but whenever and wherever you want. You can listen on your computer, or on a smart phone or tablet, and you can download it so you can listen when you're offline.
Honestly, podcasts pair perfectly with cleaning and decluttering! You can listen while you work, and the time flies by.
How to find a podcast:
Go to the podcast app that's already on your iPhone, or download the Stitcher app if you're not using an iPhone.
You can watch the video above (or click here if you don't see it) or check out the steps below:
Find the purple podcast app on your iPhone or iPad, or download the Stitcher app on your phone-that's-not-an-iPhone. To be clear, these instructions are for the Podcast App on an iPhone, but I assume the experience is similar on other podcast apps.
Once you open the app, click on the search icon in the bottom right corner. Type in the name of a specific podcast you'd like to find, or search for a subject that interests you.
On the next screen, you'll see quite a few podcast episodes, with the option to download them from that screen. These are a mixture of most recent and most popular episodes, so they're random. At the bottom of this screen, you'll see a larger icon of the podcast you're looking for (if you searched for a specific podcast name). Click on that to see ALL of the episodes of that podcast. The others you see next to that larger icon of the podcast you're looking for are probably shows where the podcaster has appeared as a guest.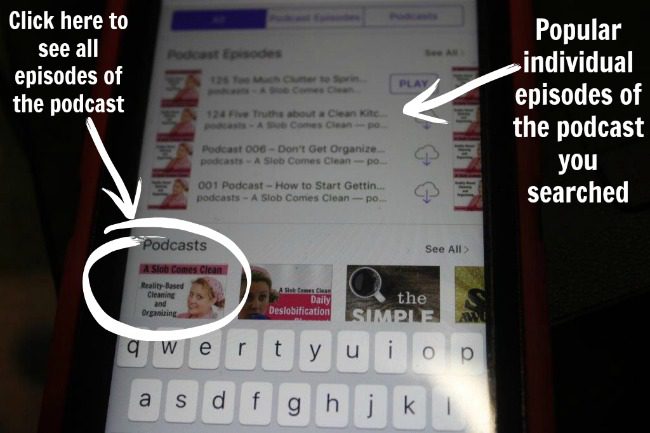 This next image has A LOT of info. But it's not complicated, I promise!
The info lower on the image is what you need first. To try out a podcast episode with zero commitment, just touch the episode that sounds interesting to you. It will start playing without downloading first. Of course, playing without downloading requires the internet, either wifi or data.
If you'd like to listen offline, click the cloud-with-a-downward-arrow next to the episode you want to try. That will download the episode to your phone. Once it's downloaded, you'll see the PLAY next to the episode. Click that to start playing the episode wherever you are, with or without internet access. (Internet access is needed while downloading, though.)
Once you decide you love a certain podcast and don't want to ever miss an episode, click "subscribe" and new episodes will automatically be downloaded to your phone. (The photo shows the word "unsubscribe" because I'm subscribed to my own podcast!)
If you decide you love, love, love the podcast and want to share it with friends, click the square-with-an-upward-pointing-arrow and you'll be able to text or email the episode, or grab the link to share however you want.
Once you've subscribed to a podcast (or several podcasts) click on "My Podcasts" in the bar at the bottom of the app to see all the podcasts you've subscribed to that have automatically downloaded new episodes.
Once you click on the podcast you want to listen to, episodes that have already been downloaded will not have a cloud symbol next to the length of the episode. Just tap and it will start playing, even if you do not have internet access. If there is a cloud symbol, it isn't yet downloaded. Tap on the three dots to the right of the episode, and you will be given the option to download the episode.
If you'd like to see all the episodes of the podcast, click on "feed" in the bar across the top.
This is the screen (with lots of options for downloading, seeing full description, sharing, and more) that you'll see if you click those three dots next to an episode:
But alas, if you don't have a smartphone or tablet, or just want to listen from your computer, that's fine, too! To listen to my podcasts, just click on one that sounds interesting to you from this page. Once you get to the podcast, just click the play button on the gray bar under the main photo, and my voice will start coming out of your computer speakers! Most podcasts have a website where you can listen, so just search "whatever-subject podcast" and you'll find them.
So WHY would you listen to a podcast? Well, I love that I can listen while I do other things. I always have a podcast going while I'm folding laundry or cleaning bathrooms. I'm told again and again that people clean and declutter while they listen to me talk about cleaning and decluttering!
I love that I can find something I'm specifically interested in learning about. Radio shows play when they play, so if you're doing laundry at a time other than when your favorite show is on, oh well. I also love that I can pause a podcast when my kid needs me.
I really love listening to podcasts in the car. My afternoon pickup rounds (which sometimes last well over an hour) are made so much more fun when I have a podcast going. I use the bluetooth feature in my new car to listen over the sound system, but when we didn't have a car with bluetooth, we used this cassette adapter to play podcasts through our tapedeck! (<- That's an affiliate link, and there's about to be another.) Just don't mess with your phone while you're driving. A bluetooth speaker is also a great idea for around the house, especially if you're cleaning and want to be able to hear from room to room without carrying your phone with you.
Do you listen to podcasts? If you give them a try, tell me what you think! Please feel free to share this How to Listen to a Podcast Tutorial with friends who don't understand what a podcast is or how to listen to one!
Here's the page on my site with all of my podcasts listed, and here's the direct link to iTunes that you can click if you're on your phone!
--Nony