A better blogger might name this post "Labeling Shampoo and Conditioner Bottles to Keep Teenage Boys from Washing their Hair With Conditioner," but I have a very hard time believing anyone would search for that.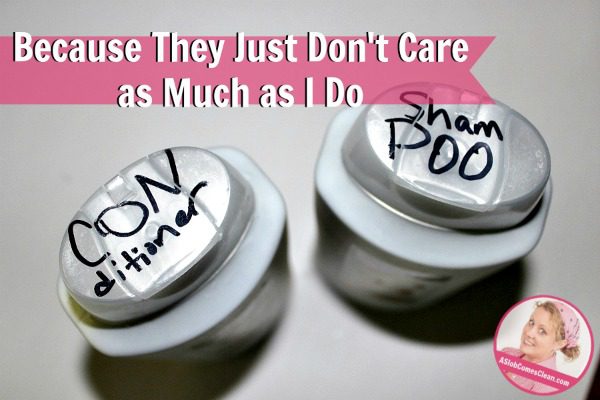 In case you're one to follow along closely, you know about our broken shower.
Which might mean that when I mention it's still broken you'll have a much better idea of how long it has been broken than I do.
I have T.P.A.D., y'all.
Hubby has adjusted to showering on the other side of the house, and I've become accustomed to washing my hair in the bathtub. And I am completely overwhelmed at the thought of picking out tile. And mostly . . . T.P.A.D.
Anyway, I decided my curls needed better conditioning than I could provide with the little conditioner I had left in my bathroom, so I took a shower. I planned to use some of my daughter's conditioner and glob it on good.
As I held the bottles in multiple lights and at various distances to let my 42 year old eyes read which was shampoo and which was conditioner, panic rose in my chest at the realization that my less-observant teenage boys might not be going to as much trouble.
Even with their youthful and not-yet-betraying-them eyesight.
There's a very high chance that they've been "washing" their hair with conditioner instead of shampoo, because the fact is: they don't care as much as I do. 
They just don't. Just like they don't care when there is dust under a TV stand.
So I found my trusty Sharpie (<-that's an affiliate link, FYI) and labeled them.
Because we are long past the days of helping them wash their hair, but this mama has to do what she can to make herself feel better.
And teenage boys need clean hair.
Really.
Confession: Fine. I'm glad to not have to squint and search to figure out which bottle is which.
Another confession: I made POO bigger because I'm pretty sure my kids will think that's funny.
One more confession: Fine. I think it's funny, too.
Since I love affiliate linking to things like Sharpie markers in hopes you'll click out of curiosity (to see how much they go for over on Amazon) and then remember you need to order a new pair of running shoes while you're there, did you know you can get shampoo and conditioner on Amazon too? You can even put them on Subscribe and Save so you never run out! Here's my post about how Subscribe and Save works. 
--Nony