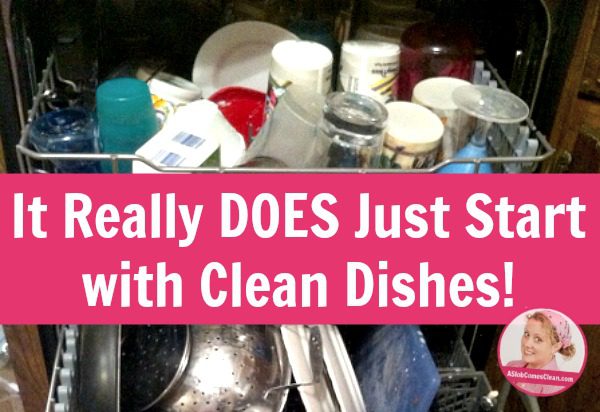 Dana/Nony here: A story from one of you, who (just like me) never thought something as simple as washing the dishes would have such a huge impact:

Thinking back, when I set out to clean the house, the very first thing was the dishes then it migrated to the kitchen and out from there. My dishes have been clean for over a week now and I have gotten SO much done as a result.

My house FEELS clean even though it's far from it. If my dishes are clean, I can start with something else when cleaning. It's amazing and a novel idea. Who knew?

This week, I have gotten a MUCH needed room painted. It has been down to the drywall (complete with original owners writing on the walls) for 3 years now. It's now PAINTED! I got it done because my dishes were clean. Wow.

I also got ALL of my laundry done on Monday. All in one day for the first time in my life. I told my daughter the washer was closed until Friday so her clothes had better make it down for that last load. Now I'm not behind on laundry.

I got so much done, I relaxed last night for the first time in a while. Now . . . I won't mention that I was so relaxed that I forgot to cook supper and my 12 year old ate ice cream for supper. Baby steps right?