Someone recently commented that we sure have had some major house issues lately.
Someone was right.
I'm trying to take deep breaths and be grateful that we have a (leaky) roof over our heads and that we have had the money to deal with the urgent things and hope for the money to deal with the less-urgent things before they become urgent.
FYI, the roof leak has been fixed. We just didn't know for sure it was fixed until we finally had another hard rain, so there were several months of breath-holding.
The current most-urgent drama in our 37 year old house (I know that's super-young to some and super-0ld to others) happened when my husband stepped in a puddle in his closet.
We knew it had something to do with the shower that is near his closet, but it wasn't until two showers later that we figured out the water was coming out under the wall. Under the wall. So weird.
According to Mr. Plumber, our shower is a goner, and must be completely yanked out (it's one of those drop-in ones), re-plumbed, and then tiled.
Yippee.
And he said . . . "It looks like it has been leaking for a while, looking at that grout."
I knew the grout looked awful, but I was hoping he wouldn't notice it. I'd had to deal with the other aspects of bathroom cleaning and master bedroom cleaning just to be able to let him in so he could assess our problem.
He noticed. Obviously.
I was pretty sure that the grout grossness wasn't from a leak, as it had been there a very long time, just under the bathmat. I'd scrubbed it and sprayed it and such before, but never made much of a difference.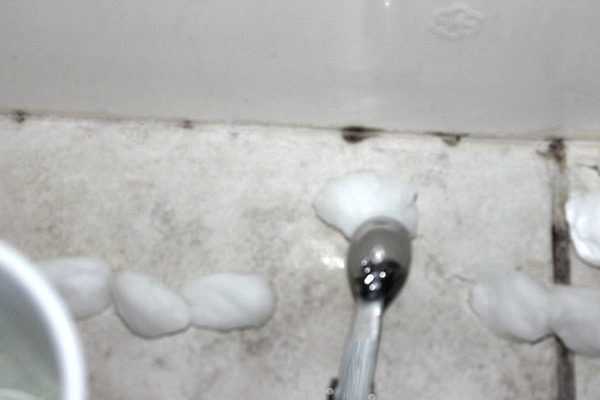 But then I saw this tip come through my feed on Pinterest. It's genius, but my hopes weren't high.
Read the instructions here. See my results here:
Basically, you soak cotton balls in straight-up bleach and then put them directly on the grout/caulking overnight. No scrubbing whatsoever.
Seriously, y'all, I giggled with glee when I pulled those cotton balls up the next day. I was so excited! I even used the same ol' already-soaked cotton balls to deal with a similar-but-not-as-bad problem in my kids' bathroom. It worked there too!
FYI: From what I understand, bleach doesn't actually kill mold, but y'all  . . . it's so much less embarrassing now, so I'm happy!! If it happens again, I will soak cotton balls in Concrobium and see what happens, and then let you know! I also did this just before I received Clean Shot bleach tablets to try out, but I'm sure dissolving a tablet in water would have the same effect, though not in a full gallon of water since I used straight-up undiluted bleach.
Save
--Nony