This is a sponsored post, but the opinions and messes are all mine.
It was Chicken Day and I needed to try out Clean Shot Bleach Tablets. Talk about two tasks that go together perfectly.
I'm a big fan of buying chicken in bulk and then trimming it all, cooking a bunch, and bagging a bunch all in one day. It's so much work on the day when I do it (and I never, ever look forward to doing it) but the months when I don't have to trim a single chicken breast make it worth the day of work.
Saturday was my Chicken Day, so I cleared everything off of the counters near the sink and prepared to start the process. I was dealing with 40 pounds of chicken. FORTY pounds, y'all.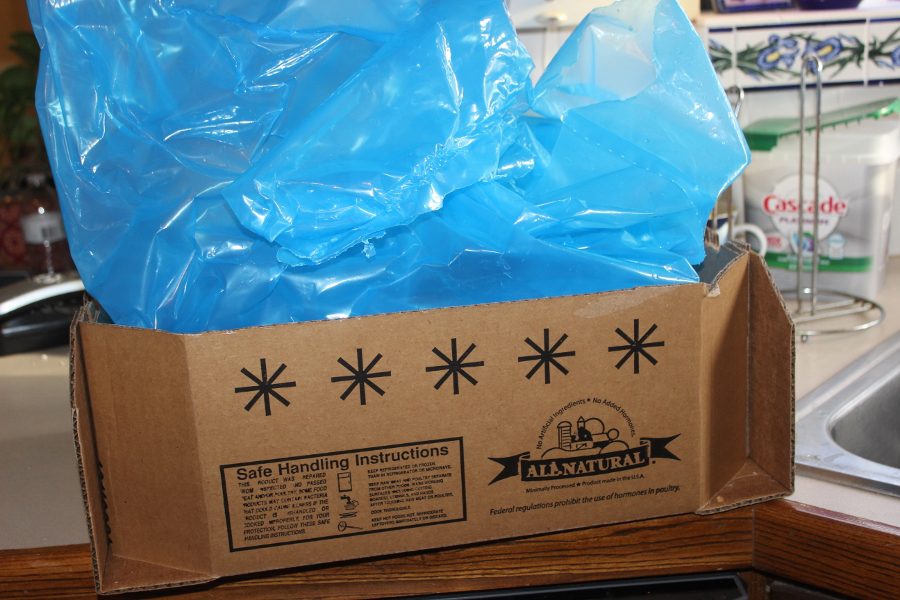 But once all that chicken has been trimmed and packaged, I still have work to do. This germaphobe can't rest until every area of the kitchen that chicken touched has been thoroughly cleaned and disinfected.
Because, chicken.
Of all the things that freak me out, chicken causes the most freaking for me.
It was a perfect time to pull out the Clean Shot Bleach Tablets. Basically, I'm hyper-conscious at all times while dealing with raw chicken. I decided to fill up my over-labeled Bleach Solution spray bottle with some water and part of a bleach tablet. According to the directions on the bottle, for cleaning, you dissolve one tablet in a gallon of water. I did the math (after Hubby looked up How Many Ounces are in a Gallon? for me) and decided I needed a quarter of a tablet for my 32 oz spray bottle. I put the tablet in a plastic bag so I wouldn't have to touch it (or go search for gloves) and it broke easily.
I ended up removing a few ounces of the water from the spray bottle so I could shake the bottle and make the tablet dissolve faster.
After wiping down the area well, I sprayed it all with the bleach solution, let it dry and then wiped it down with a wet paper towel.
I then tried the Clean Shot Bleach Tablets with my Chicken Laundry (that's laundry that might have been exposed to Chicken Juice, not clothes worn by chickens . . . ). Because I wash my hands fifty-ba-jillion times (approximately) while dealing with all that chicken, I make sure all the towels I use are ones I'm willing to wash with bleach. I also wear an old, white, bleachable t-shirt. I then run a special Chicken Load.
I loved using the tablet for laundry. Just drop a tablet in the drum and go. I shook out a tablet into the bottle's lid to avoid touching it. (Note: the bottle doesn't say you can't touch them, but I'm extra-cautious like that.)
Yay for being able to rest easy, not worrying about Chicken Germs after a long day of chickenizing.
And then, to see how one more suggested use works, I dropped two tablets in a toilet when I started writing this post. They don't dissolve immediately, but I went back 20ish minutes later and they had dissolved and were ready for me to swish the toilet.
I couldn't get a picture that showed them dissolved. (If you've never tried to take a picture of a bleach tablet dissolved in a toilet, it's not easy. Trust me.)
The camp where I worked in the summers (where I learned all about professional bathroom cleaning) had us use bleach to clean the toilets once a week. We used other cleaning products the other days of the week. I really like the idea of starting Bathroom Cleaning Day by dropping these tablets in the toilets before I start cleaning so they'll be ready to scrub the toilet when it's time.
These things remind me SO much of the chlorine tablets the lifeguards use in our local pool. They look and smell like miniature versions of those things. I used the Regular Scent, but two other scents are available.
In the course of about eighteen hours, I used the Clean Shot Bleach Tablets in three different ways. They were easy to use and I like that they come in a compact container that doesn't take up a lot of room in my laundry room cabinet. They're definitely worth keeping on hand.
They do have "childproof" lids, but obviously need to be kept well out of the reach of children. And they're bleach. So they cannot be mixed with any other cleaning products.
GIVEAWAY!!!
Would you like to win 3 bottles of Clean Shot ($12 value)? Just leave a comment below telling me about the mess you'd tackle! One commenter will be chosen using random.org, and when I email the winner, he/she will need to respond within 48 hours or I'll have to choose another winner. The giveaway is open to U.S. residents only, and the prize will be fulfilled by Clean Shot. You must leave a comment on this blog post, so if you're reading by email click the title of the post to get to the site and enter. This giveaway will close on Monday, March 21, 2016 at 9 p.m. Central time. See all my giveaway policies here.
This was a sponsored post, but all experiences, opinions, messes, and germaphobia struggles are mine!!!
--Nony