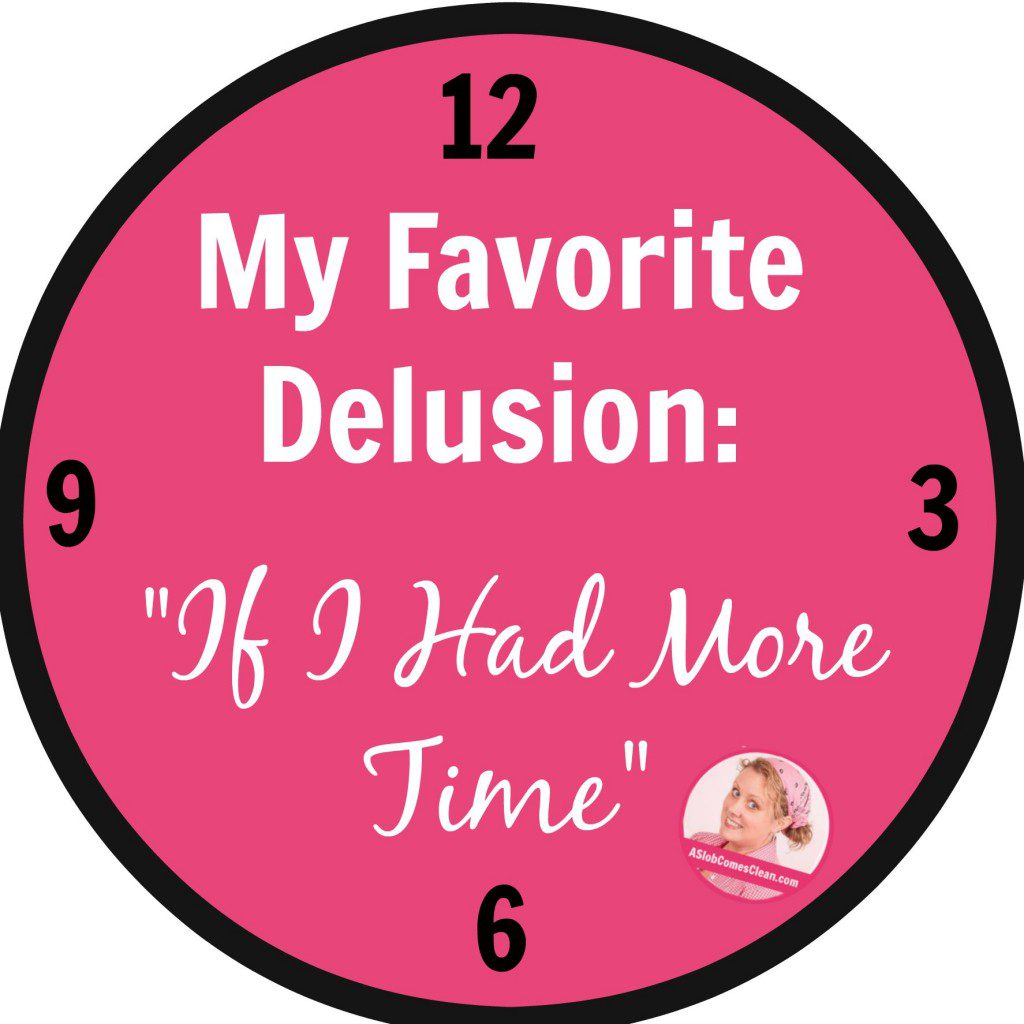 My mostest favoritest Slob Delusion in the whole wide world?
If I had more time/wasn't so busy/didn't have SO MANY other things to do, my house would be clean.
Magically.
Easily.
Without me even realizing I was cleaning it.
Is it the true definition of delusional when someone has learned from (oh-so-much) experience that something isn't true, but still holds on to the belief in the depths of her Slob Heart?
Summer was fun. Summer wasn't lazy (with swim team and musical theatre and football training and such), but there were days where I truly had time.
Chunks of mornings with nothing I HAD to do.
No pressures or expectations.
So I cleaned house.
But because I felt no time pressure, I found myself falling back into my old ways of Piddly Cleaning.
Piddly Cleaning = Wandering around, picking up or dusting or wiping down whatever came across my vision.
Piddly Cleaning doesn't work, y'all.
Here's how it goes for me: I start clearing the dining room table, but as I go to put something away, I notice there are enough dark clothes to make a load of laundry. (Who needs Laundry Day when you have TIME??) I gather up the load of laundry, only to open the washing machine and realize I left a load in there yesterday (or the day before yesterday or the day before the day before yesterday). Time to grab the vinegar and re-wash that load. So much for the new load of darks.
And so on and so forth. Lots of starting, little finishing.
At some point, it's time to pick up one of the kids from one of his/her activities, but even though I've been "cleaning" for an hour and a half, I'd never convince a jury that I'd done a single thing.
Piddly cleaning, even for long periods of uninterrupted time, produces pretty much no visible results.
Blech.
I know this. I have a distinct memory of a conversation with Hubby when the kids were itty-bitty. I was wailing that I felt like I spent all-day-every-day cleaning, never sitting down to watch a show or read a book or catch a nap, and yet at the end of the day there was nothing to show for it.
The reason I remember this conversation so well? The look in Hubby's eyes. A forced, supportive smile revealed as inauthentic by the confusion/disbelief/skepticism in his eyes.
The natural evidence that I'd cleaned house all day would be . . . a clean house. Right?
A decade or so later, I get it. I understand why (after six years of slob-blogging) Piddly Cleaning produces no traction.
Really.
But I still fall for this particularly loved delusion. As frustrating as re-learning this was, I guess it's a good reminder.
The basics are the basics no matter how busy I am. Dusting the display of glassware in the back room won't produce a "Wow, the house looks great!" if dishes are sitting in the sink.
Yes, it's harder when life is crazy. But on its own, "life not being crazy" doesn't automatically result in a clean house.
Routines result in a clean house.
Blergh.
Save
--Nony