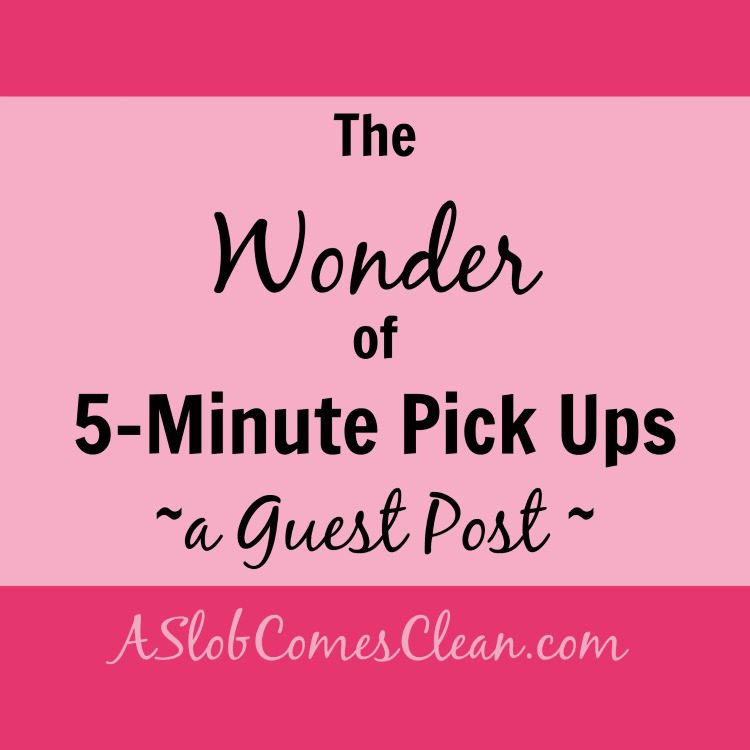 This is a guest post from Angela at Setting My Intention.
As I scrolled through the "before" pictures of my future decluttering projects on my phone, my oldest son was looking over my shoulder and asked, "What are you doing with all those photos Mom?" I told him that I was planning on decluttering our house this year and he replied, "Why? That's our family way."  Hmmm…
My son owning clutter as a family trait was humorous but also alarming. Someday when I ask my children what they remember about their childhood – I hope that clutter and mess is not at the top of the list. I want my children to feel peaceful, loved, and calm in our home. I want to feel peaceful, loved, and calm in our home.
That is one of the main reasons that I began 2015 with an intention to slowly and systematically get rid of clutter in our home. For the past several months I have been reading minimalist blogs, binge listening to simplifying and decluttering podcasts, and putting into action small changes in my daily habits. Nony's "A Slob Comes Clean" podcast has been my most recent find – and I'm so glad to have found it! I can really relate to her term "Slob Vision" and "Time Passage Awareness Disorder" – both of which I have!
I started blogging in February 2015 to document my progress and keep myself accountable – but like Nony, did not initially let anyone know. I didn't want my friends or acquaintances to see the "real" state of my house. Listening to A Slob Comes Clean has reassured me that there are others who struggle with keeping their homes clean and tidy. One of the things that I first implemented was a "clutter free zone" in my kitchen. It's a small part of the countertop but it's easy to keep clear and clean on a daily basis.
Another habit that we have recently started implementing as a family is a "5 minute pick up" which Nony has written and talked about on her podcasts. My family has done this before in the past but not on a regular schedule. As I have decluttered the children's toys and books, it's become SO much easier to pick up and clean. I used to tidy the living room by myself while the kids were in school, but I've realized that it's quicker when we do it together and I want them to develop this habit as a life skill.
Our living room is the gathering spot for the family. My sons don't do homework on the kitchen table or at a desk – they like to sprawl across the living room floor and do it there. That translates to backpacks, folders and papers left on the floor along with socks and sweatshirts strewn about as everyone gets comfortable. This is generally what our living room looks like at the end of the week: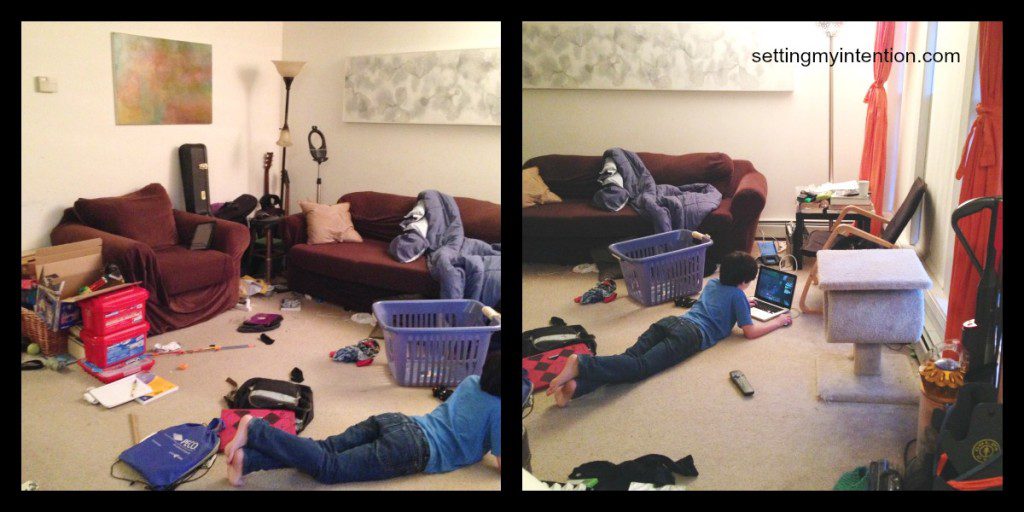 This was taken after we had done a 5 minute pick up the previous Friday, so a good deal of things that didn't belong in the living room had been put in their places the week before. The state of the room isn't so bad…but it's not peaceful.
I've decided that Friday evenings will be the time when we do a 5 minute pick up. It starts our weekend off in a really positive way. Backpacks are put away in our storage bench, socks and clothes are brought downstairs to the laundry area, and toys and books are brought back to the kids' rooms. We set a timer for 5 minutes and each of us takes an area of the room or a specific task (picking up socks and clothes).
This is what it looks like after a 5 minute pick up: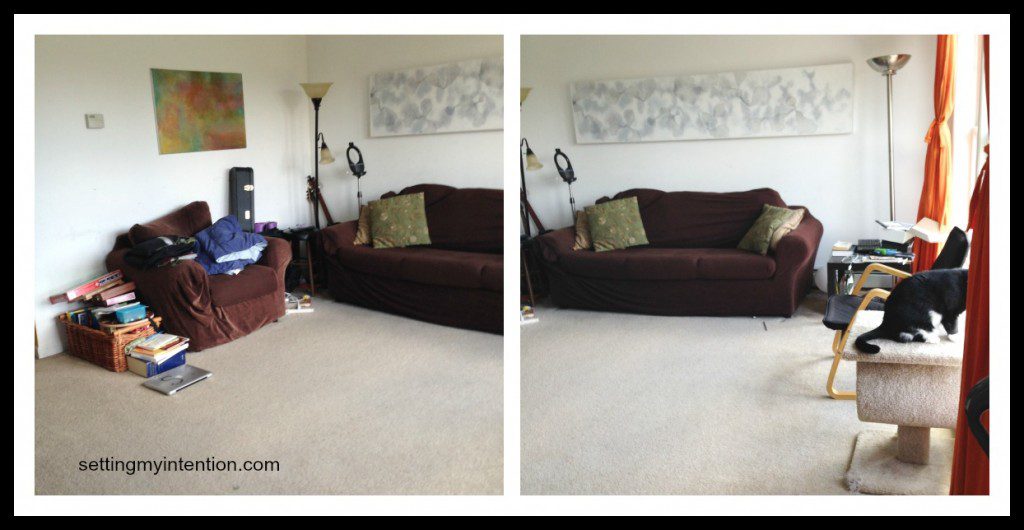 There are many ways I'm not happy with my furniture, or the layout of my living room, but a clear uncluttered floor makes such a difference in how I feel about the room. When I walk down the stairs on a Saturday morning to a picked up living room, it helps me to enter the weekend feeling peaceful and calm – and when mom is peaceful and calm, the whole family reaps the benefits!
Does your family do 5 minute pick ups?
Angela recently started blogging at Setting My Intention while she tries to overcome her slob vision and actually confront her piles. She is a wife and mom to three boys. She works part time outside the home, and full time inside the home. She loves to hear and see how others are decluttering and simplifying, so please drop by her blog and say hello!