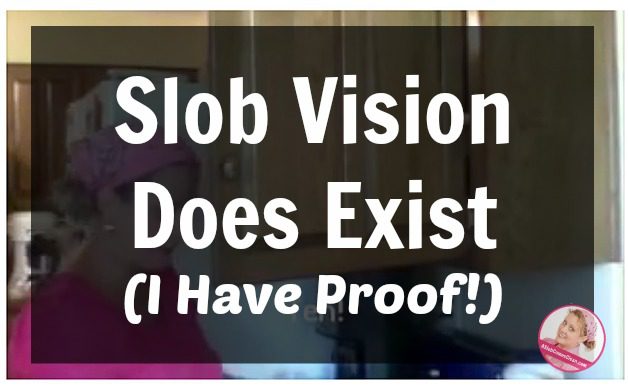 The first decluttering webisode I made was of my Kitchen Drawer Project.
I had so much fun making it, but the real fits of laughter for hubby and I came from watching the outtakes.
The outtakes PROVED what I have claimed for our entire twelve-year marriage: I truly do not see open cabinet doors.
I do not choose to leave them open.  There's no spite or decision-to-irritate-him involved.
They simply do not register to me.  It's one example of what I call Slob Vision.
And the outtakes of that webisode . . . prove me right.
I left the camera running as I went through the various items that I was decluttering.  It was only during the editing process that I saw that I had opened the cabinet door just above my head early on, and left it open until almost the end.
Not only was it open, but it was in my way.  Because there was a Donate Box sitting on a chair (just outside the shot) behind me, I had to twist and physically move AROUND the open cabinet door every time I went to the camera to say something.
Move around without ever seeing it.
Want to see the proof?  Here's the outtakes video:
If you don't see the video, click here to watch it on youtube.