I was provided with tickets for my family in exchange for writing this post.

It's summer.
I love summer.
Summer is all about fun, and this post is all about fun. I am SO excited to host this giveaway for a FOUR PACK of tickets to a Hawaiian Falls waterpark!!
Wahoo!!!
Hmmmm. How to relate this to cleaning?? Well, even if you forget to do the dishes the night before, you won't see them all day because you're at the park, and you won't even think about them because you're having so much fun!
Now that I've made it totally, completely relevant, let me just say that my kids and I love these waterparks. We go every summer. As you know, I'm mostly, kinda-sorta taking the summer off from blogging. Days like the ones we spend at Hawaiian Falls are the reason. I want to be fully there with/for my kids during these fleeting days/years while I have them to myself.
All to my greedy-mommy-self.
So, when I had the opportunity to go play on the ropes course at one of the parks with some other Dallas bloggers, I took it. I took it because it meant I could offer one of you the chance to be with YOUR kids one day this summer doing fun stuff together.
I maybe also took it because I got tickets for me and my kids.
Fine. I mostly took this opportunity because it sounded so fun. And it was!
I love water rides. I love swimming. But this particular park in W. Settlement, Texas (and one like it in Pflugerville, TX near Austin) not only has water stuff, but also an Adventure Park!
Adventure Park = ropes course.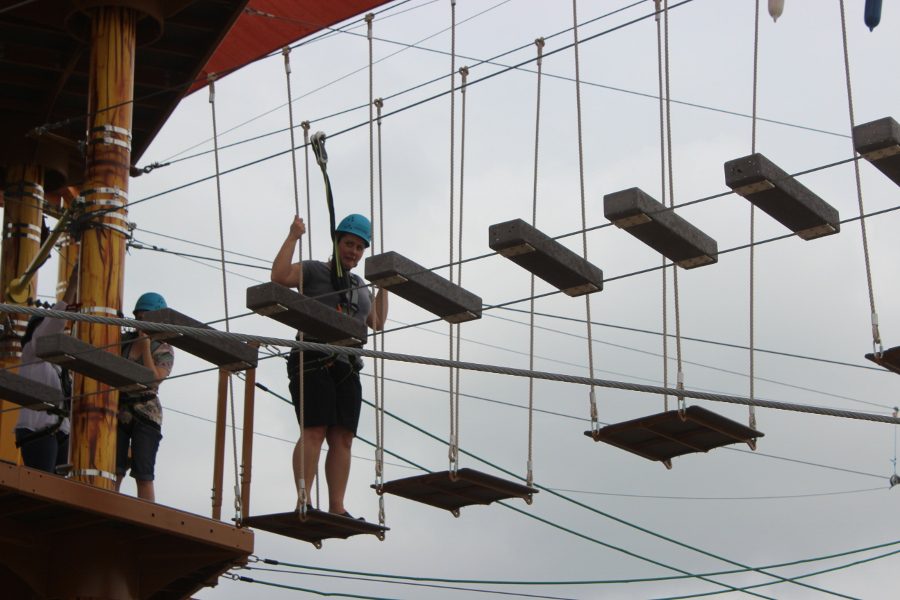 Not only can you do the wave pool and the waterslides and the lazy river, you can play on three stories of ropes courses, each story with about ten challenges. That's included in the price of going to the waterpark for the day. For an extra cost, you can also zipline across the entire park.
Like me: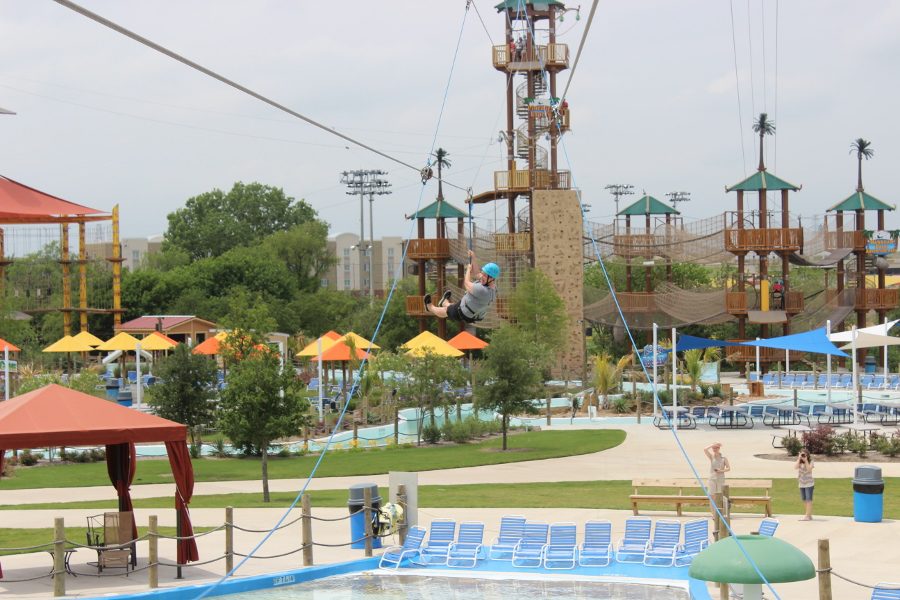 I did that. Across the park and back again. Waaaahhhhh!!! Lest you think I'm brave, I took forEVER to step off that platform and I asked and re-asked the worker sixty-ba-jillion times if she was SURE everything was hooked correctly.
Fun, but scary.
Needless to say, my kids have decided we're going to this specific park so they can experience the ropes course. Just note that if you go to one of the two with an Adventure Park (W. Settlement and Pflugerville), bring close-toed shoes and clothes to wear over your suit. You have to be dry, and can't do it in flip flops. If I didn't know that ahead of time, we'd not be prepared!
But you'll have fun at any of the locations, even without the Adventure Park. I (and all my mom-friends) love these parks because they are amazingly family-friendly. They are small, so it's easy to set up a meeting spot and get back to it if your family wants to split up for a ride or two. There are also plenty of shaded spots, and sections for younger kids. They also play family-friendly music and offer unlimited drinks for the day for 4.99! Not bad!
Oh. And parking is free.
All these things give my mama-heart the warm-fuzzies, and these warm-fuzzies got warmer when the owner spoke to those of us at the blogger event. Hearing his heart for this business was so interesting and fun. He is in this business specifically to provide a place for families to have fun together. The comfort and happiness of the mama is top priority. The small size and other family-friendly features are purposeful.
So, if you're in Texas, check out the locations and see if there's one near you. Or maybe you're heading to the Dallas or Austin area for a vacation this summer! All you have to do to enter the giveaway is leave a comment below sharing your favorite family summer memory.
Enter the giveaway AND go ahead and use these coupons for Mondays and Tuesdays! These are some great savings!
Prize Details
One commenter will win a four-pack of tickets that can be used for one day's admission to any of the seven Hawaiian Falls waterpark locations, all located in Texas. Most are in the Dallas/Fort Worth area, plus one near Austin. Hawaiian Falls will provide the tickets and will mail them directly to the winner.
Giveaway details
You are allowed one entry. The prize is four one-day tickets to any Hawaiian Falls location, valued at $107.96. Tickets must be used in the summer of 2015. All parks are located in Texas. The giveaway is open to people living in the continental U.S. Enter by commenting on this post directly. The giveaway will close on Sunday, July 5th at 10 p.m. Central time. The winner (chosen randomly) will be notified via email, and will have 48 hours to respond to the email. If a response is not received in that time, another winner will be chosen. See all giveaway policies here.
Podcast (aslobcomesclean-comfeeddailyaudioblog): Play in new window | Download
Subscribe: RSS
Podcast Listeners Click Here (to see the post and enter!)
--Nony