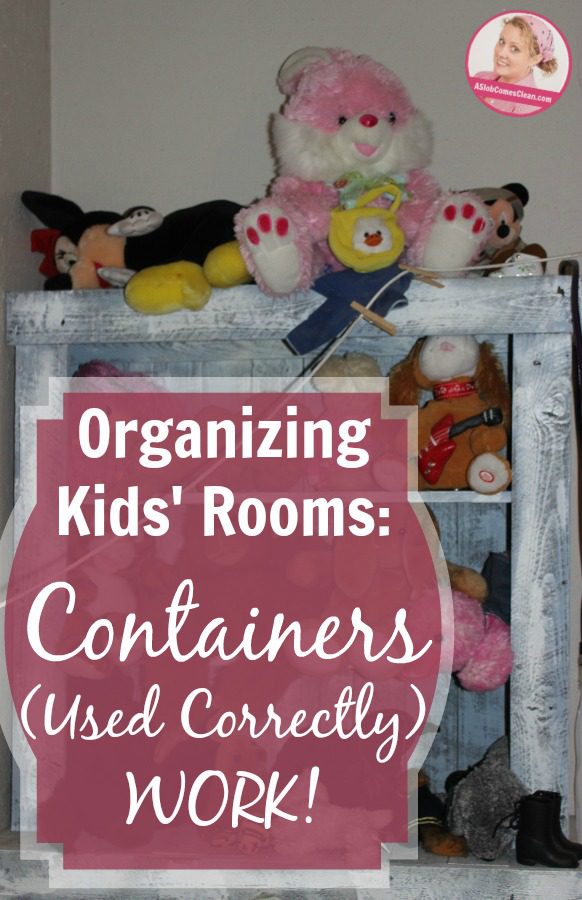 Wait. You saw that picture and clicked over because you thought it was a before pic?
Oh.
Well, this is uncomfortable.
That's not a before picture. It's actually a celebration picture. Here it is without all the extra bloggy stuff: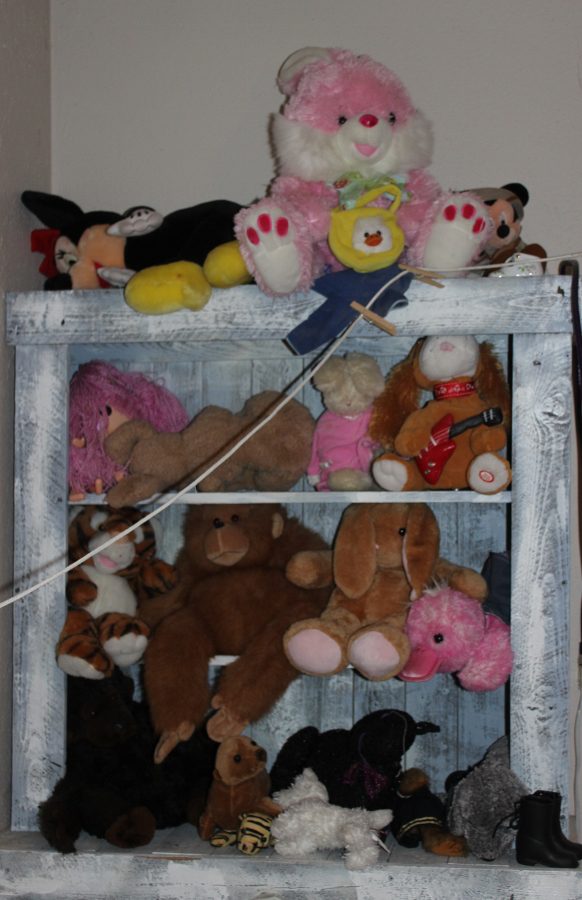 It's a success picture because it's an "organizing solution" that works for us. And it has been working for two and a half years!!
I wrote a post back in August of '12 sharing that we'd tried a new method for containing my daughter's stuffed animals. Before this idea, they were forever strewn across the floor, the bed, and any other available horizontal surface.
Even though I know it's not scientifically possible, I truly believed they were multiplying.
IfyaknowwhatImean . . .
It was three years into this deslobification process, and the Container Concept was taking hold in my Slob Brain. I was starting to get it.
We placed her beloved (but rarely-truly-played-with) stuffed animals on the shelves of the rustic china cabinet-ey thingy we'd moved into her room a year and a half before that. Over the year-and-a-half, we'd learned that these not-so-accessible shelves weren't good for toys she wanted to play with regularly. Getting down was a hassle and putting back was a longshot.
But using it for displaying furry friends works. And with each clutter shakedown in her room, the Container Concept continues working.
That cabinet is a container. It's a limit. It contains/limits the stuffed animals we can keep.
If a new stuffed animal enters our world, its worth is easily determined by whether or not it is deemed shelf-worthy. The shelves only hold so many stuffed animals. If we want to keep a new one, an old one must go to make room.
If the new animal doesn't beat out at least one other animal on the shelf-worthiness scale, we can't keep it.
The container (not a nagging mama) determines how many stuffed animals we keep.
And the decision is hers. While I have no idea why the pink platypus is so appealing, I don't care. It fits on the shelf and doesn't clutter the floor.
It's CONTAINED.
Yay for a solution that has worked for a long time. Those are like the Golden Ticket around here.
Need more ideas for organizing kids' rooms? Here's a big ol' post with specific ideas and lots of links.
Added affiliate link: In the comments on this post, Cecilia mentioned an amazing idea for CONTAINing stuffed animals that I'd never seen before.
It's like a bean bag, but you stuff it with your own stuffed animals. The animals are "contained" and your child has a bean bag chair or large pillow to lounge upon!
Podcast (aslobcomesclean-comfeeddailyaudioblog): Play in new window | Download
Subscribe: RSS
Save
Save
Save
--Nony