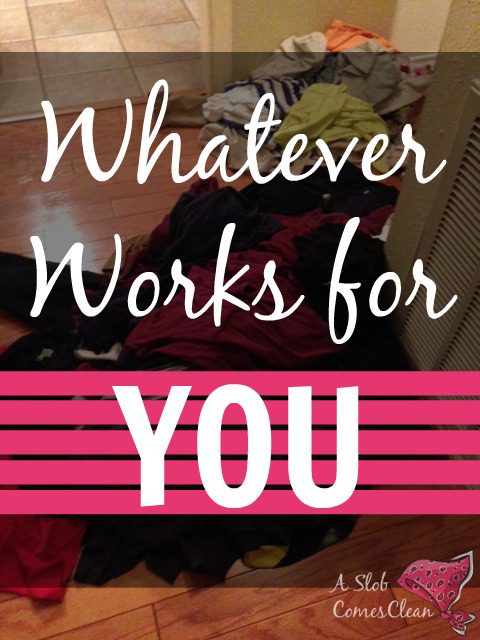 I have e-books. I've come up with ways to keep my home under control, to be able to let non-immediate-family members come inside on a weekly basis. I can tackle a decluttering project with confidence and know I'll make progress (if not finish) in whatever time I throw at it.
I share all these things (and all the times I fail) with you here on the blog.
I get giddy when someone joins my Laundry Day Club, because I know how home-changing that concept has been for our family.
BUT, I really only care about whatever works for you.
Take my ideas, give 'em a try, and if they don't work for you, find something that does.
I was once in a meeting-of-the-minds conference call between a cleaning product brand and a group of cleaning experts. (As proof that anything can happen, I was one of the cleaning experts.)
The subject of laundry came up, and another "expert" started going on and on about how he/she could not understand how/why anyone would do all their laundry on one day. How that made no sense when it was so much easier to do one load a day, from start to finish.
I spoke up. I had to. I explained exactly how one load a day goes in my house (how it becomes the same one load day after day because I can't remember to change it over to the dryer) and why the get-it-over-with-in-a-day-so-I-don't-have-to-think-about-laundry-for-six-whole-days way works so much better for my Project Brain.
But I totally get how one load a day would be awesome for someone who can make it work for them.
For me, it drains the energy from my soul.
This is why I haven't promoted a free video e-course recently called Four Steps to Stress Free Homemaking. I wanted so badly to promote it because it was a precursor to the Ultimate Homemaking Bundle sale.
My first cringe came from my personal reaction to what feels like over-simplifying something that isn't a simple issue for me. But then, I watched the first two videos. I really do like the women in them.
But the first video is all about how one load a day is the way to go. How it's THE key to never getting behind on laundry again. I was talking to my husband about how I wished I could promote them but couldn't in good conscience because the first video completely goes against what I believe is a game-changer for people like me. I casually said, "They're encouraging people to do one load a day, from start to finish . . . "
Before I could keep rambling, Hubby said, "NO!"
I was surprised at his vehemence.
He shook his head and said, "No. No way. That would be a horrible idea for you. Your way of doing all the laundry on Monday is the only way for you to keep it under control."
Keep in mind that this man speaks not from theory or from reading my blog, but from experiencing clean socks and undies and rarely-ridiculously-wrinkled t-shirts every day, every week for years now. Like, 4 whole years.
This experience is in stark contrast to his experience in the days when I tried the one load a day method.
He knows what works in our home, because he lives it.
So here's my point. Do whatever works. Maybe the method in the course is exactly what will work for you. Or maybe you're like me, and need to treat laundry as a project with a beginning, a middle, and an end and do it as your single focus one day a week.
Want to understand my way and how it came about? Go here.
Podcast (aslobcomesclean-comfeeddailyaudioblog): Play in new window | Download
Subscribe: RSS
Podcast listeners click here.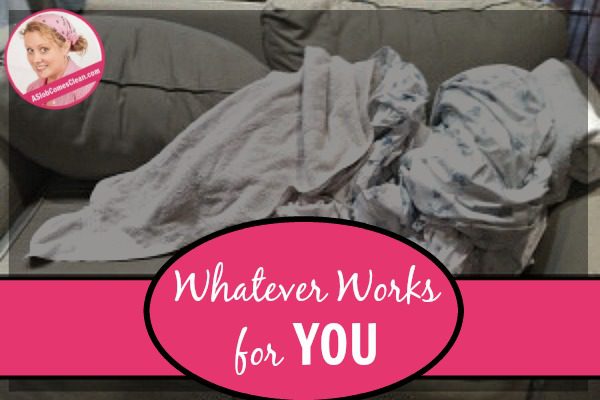 --Nony