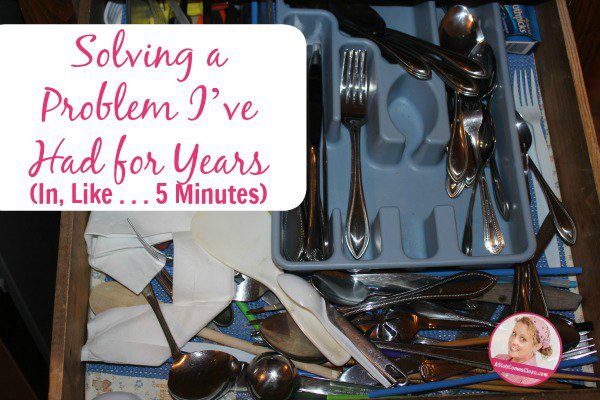 I've shared that Hubby and I were already established as adults when we married. We had both lived on our own, and we each had most of the basics needed to set up a home.
Add to that a wholotta wedding gifts from people who were thrilled we were FINALLY getting married, and our first apartment was bursting at the seams before we even moved into it.
But we only had one silverware drawer thingamabob, and it was Hubby's.
I never loved it, but I'm good at making do.
For, like, fifteen years at a time.
I didn't love it because it didn't fit everything we needed. It only had designated spots for knives, one kind of fork, and one kind of spoon. Our silverware (and every kind I've seen that comes in the sets) had two kinds of forks and two kinds of spoons. Those forks and spoons just got shoved into the other two spots.
I never loved it, but I never spent the less-than-ten-bucks to get a new one.
Then we got new silverware, and the spoons didn't even fit in the can-only-be-used-for-spoons slot. This led to extra messiness in a drawer already prone to messiness.
Back in December, I proclaimed loudly (in the presence of a child who puts a LOT of thought into purchasing Christmas gifts) that I SURE would like to have a new silverware organizer. I might have proclaimed it a few times, just to be sure he heard.
I was thrilled to unwrap a much better silverware tray from him.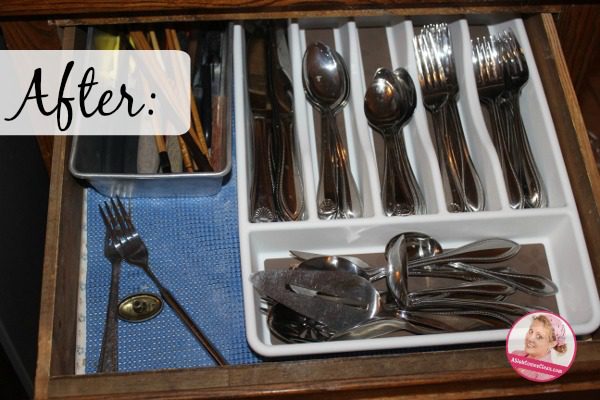 Look how much better the entire drawer looks! And I love that it takes up more space so I have less space to randomly throw things I shouldn't throw in there, but do.
Things like:
Toothpicks that went to the other side of the kitchen where I look first if I need toothpicks. (I'd never look in this drawer for them.)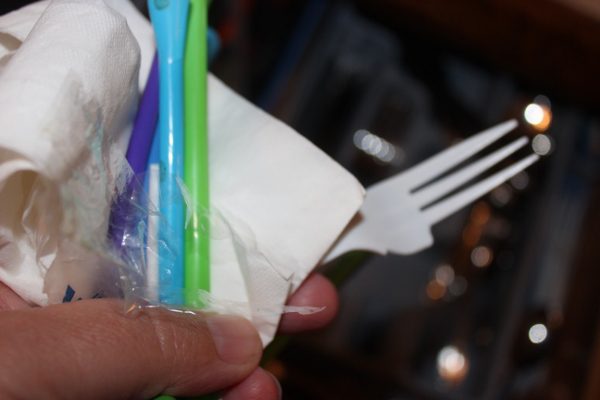 Trash. I'm sure there was some subconscious rationalization going on when I put napkins and straws and such in that drawer, but . . . a broken plastic fork? 
Ugh.
Note: I call it silverware. It's not silver. I know some areas of the country call it cutlery, but I just can't do that. Not sure why, but that feels like speaking a foreign language.
Another note: Yep. That's an (Amazon affiliate link alert) extendable fork
. Perhaps you've seen it in the webisode when I decluttered this drawer before. 
Yet another note: That's the drawer pull that keeps falling off the drawer. It's another problem I've lived with for way too long.
One last note: As long as I'm adding in affiliate links, here's the drawer organizer
I love on Amazon.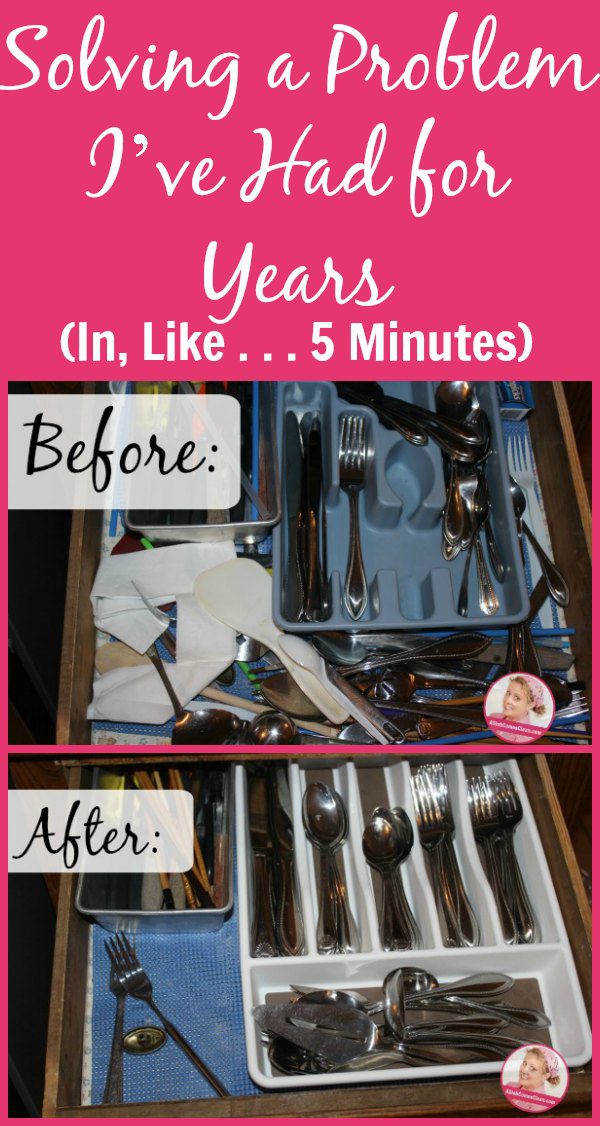 Related Posts:
My Two (And ONLY Two) Decluttering Questions (These made it super easy for me to know where to put the toothpicks!)
Read more of Hubby's and my life-combining story in my FREE e-book, Giving God the Worst of Me.
--Nony