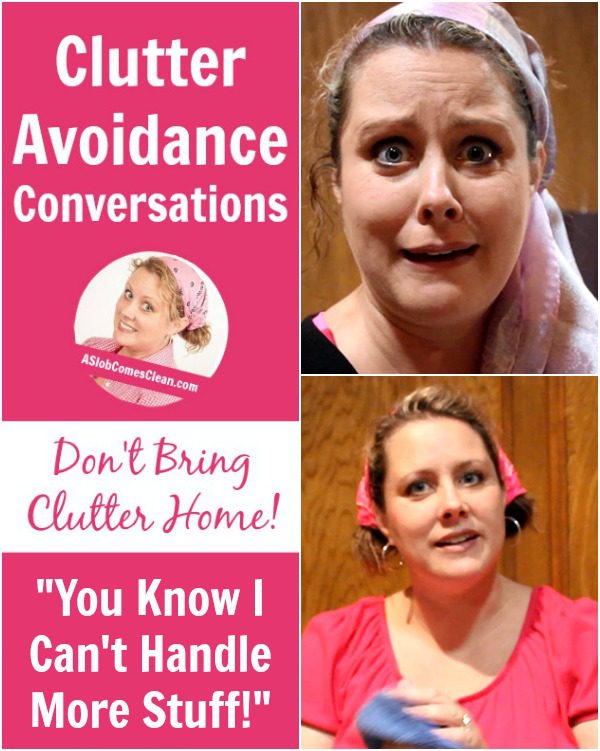 I've got five six of these Clutter Avoidance Conversations to help you get through family gatherings without bringing home stuff you don't need.
Today's approach: "You Know I Can't Handle More Stuff"
Click here to if you can't see the video.
Script:
Them: Hey sweetie, come in here for a minute, K?
Me: What do you need?
Them: Well, I have been working to clear stuff out of my house, and look what I found!! (Shows a box full of stuff)
Me: Wow! Go you!! You've been working hard!
Them: I have. I REALLY have. (Hands box to Me) Why don't you go ahead and take it out to your car so you don't forget when it's time to leave.
Me: Oh, you wanted me to take it?
Them: Well, of course. I don't need any of it.
Me: Oh, you know how hard I've been working to declutter my house too. I can't take any more stuff since I'm trying to get rid of my own stuff!
Them: But you've got such a huge collection of tablecloths and candlesticks and . . . well . . . everything!
Me: Right. And you know how much of a struggle it is for me to keep my house under control.
Them: (Nods too knowingly)
Me: So thanks for understanding why I just can't take them.
Them: Well, I really want them gone, so why don't you just go ahead and take them now and you can figure out where to put them later.
Me: (confused) No, I meant I can't take them at all. Too much stuff in my house already, you know. So go ahead and donate them. I'll be okay!
Them: Donate them? Give them away?
Me: Or do whatever, but please don't worry about me one bit. OK? Oh, I better go check the rolls!
--Nony