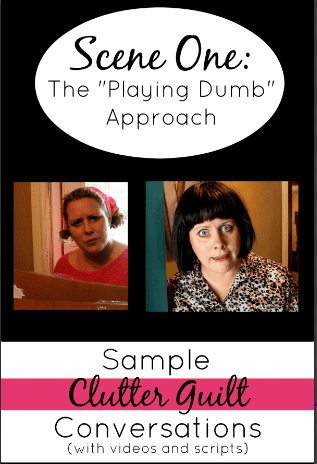 Clutter Guilt is a real thing. I get questions about it. I did a podcast on the subject last week, and then had this idea for a series of videos.
For my own Clutter Guilt situations, I have the unique advantage of having a blog about decluttering, which means most people in my life (most, not all) KNOW I can't handle stuff and understand when I have to get rid of things.
Most of them understood pre-blog, anyway.
But honestly, through the past five years of decluttering like a crazy woman, I've gained enough Decluttering Momentum that I no longer worry about offending the person who unloaded their own clutter on me. If they don't want it in their home, I feel no obligation to keep it in mine.
I know. Sometimes it isn't that simple.
There are times when you can feel obligated to offer the clutter/stuff/junk back to the giver before donating. I'm sharing a few approaches to these conversations this week.
(And mostly, I'm having fun.)
(Click here if you can't see the video!)
Clutter Guilt Script – The "Playing Dumb" Approach
(Doorbell)
Guilter: (Answers door.) Well, hello!! How are y . . . What's that? (looking down)
Guiltee: It's those Christmas decorations you love so much! I kept one for memory's sake (I hope that's okay!!) but I thought I'd give them back to you since I don't need them anymore and we just don't have the space to store them!
Guilter: No, when I got new ones I gave those to you. They're very special to me.
Guiltee: (Very serious.) I know. That's why I'm bringing them back to you! (continue nodding seriously while attempting to place the box inside his/her house.)
Guilter: I don't want them.
Guiltee: (Confused) I thought you said they were really special? Oh, I must have misunderstood. I don't mind at all dropping them by Goodwill.
Guilter: You're going to DONATE them?
Guiltee: (Confused) Of course! I don't have the room, and you don't want them. What else would I do with them? I wouldn't throw them away!! I mean, these are very nice Christmas decorations!!
Guilter: But I got those at a garage sale in a very fancy neighborhood when I was pregnant with you.
Guiltee: Oh, so you do want them?(starts putting the box down)
Guilter: No, I don't want them!
Guiltee: OK great! Then I'll take care of everything! There's a place I can drop them off on my way to pick up the kids from school.
Guilter: Bu. . .wha . .
Guiltee: Oh, I gotta go! See ya later!!
Feel free to memorize and use!!
--Nony