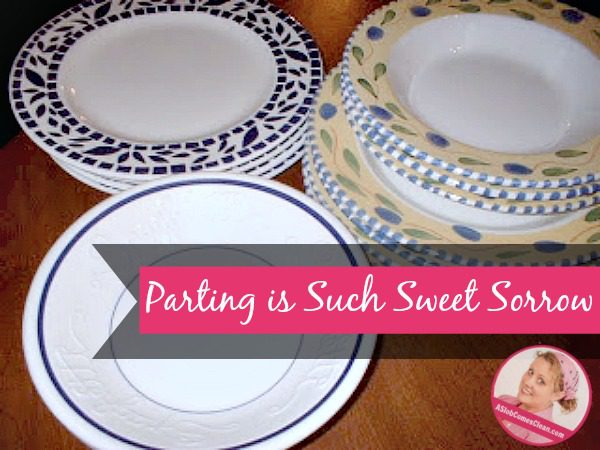 Paper plates used to be a must-have item in our house. Hubby would get nervous when we ran out. If he ever found what looked like it might be a grocery list lying around, he would jot down "paper plates, please."
They were necessary for two reasons. First was as a last resort. When every single plate in the house was dirty and piled in the sink, it was nice to have something to eat off of. Second was as a first resort. Last summer we ate off of paper plates for almost every meal in order to avoid the sink pile-up.
Thankfully, with coupons I was generally able to get very cheap paper plates, although never free. But now I've figured out how to not spend a cent on paper plates. Seriously, not a cent.
Are you ready for my big revelation?
Wash the dishes.
Since I started this blog last August, I haven't bought paper plates other than for a Christmas party, and then it was mostly because they were so pretty. AND those paper plates lasted through a second party.
I didn't realize for quite a while that we hadn't used any. Then a sale came along, and it hit me that we didn't need them.
When I start the dishwasher every night and empty it the next day, we always have clean plates. I know this is a "duh" concept for the majority of the population, but it was an experiential revelation for me. Even when I miss a day, we're still okay. Even having home groups at our house on Sunday nights, we have plenty of "real" plates.
So along those lines, I
decluttered
the cabinet where I keep everyday-dishes today. This was a rather emotional experience. I love dishes. When my husband and I registered for wedding gifts, I was only home from Thailand for 2 weeks, so I didn't have much time for pondering. I basically scanned every set of dishes that caught my fancy. And since we were both older than most of our friends when we married, people were very excited for us and we pretty much got every single thing we registered for.
So I have
a lot
of dishes. Here is the cabinet before, with no rhyme or reason for how things are put in there, a prime candidate for my
"A Place for Everything" resolution
. Keep in mind that this view is
minus
three meals worth of dishes for yesterday and the dishes from breakfast today.
Here are all of the dishes laid out on the table. What appears to be "a plate" is actually a stack of plates.
Here are the ones I'm parting with:
I love them all, but they are no longer complete sets, so I chose to go with the white ones that I have plenty of. And I'm also keeping the white melamine plates. With just the white ones, I have plenty for when we have guests over.
I'm also keeping the blue celadon ones, even though I rarely use them, because I trekked through the mountains of Thailand on an elephant to get to the factory where they were made. (Not really, but I did the elephant trek and went to the factory on the same trip so it makes a good story.)
Here's the finished cabinet. Notice how there's a place for everything?