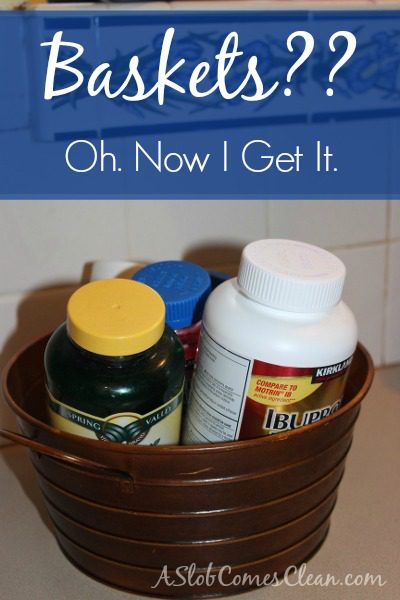 I used to think baskets would solve all my problems.
So I bought them.
And then bought some more.
And a few more just in case.
Then, I'd get home and the Organizing Energy I had before I left for the store was gone. The baskets would sit in their bags on the floor or on a shelf for . . . like . . . . forever.
They became part of the clutter.
A big part of my progress in this whole deslobification process over the past five years has been realizing/accepting that it's best for me to JUST declutter. To get rid of the stuff that we don't need and/or that won't fit in our home.
JUST decluttering makes the house feel 1000 times more organized.
Because Just Decluttering makes so much sense to my brain, I've found myself a little fearful of containers.
But now, more than four years after the lightbulb moment when I finally grasped the Container Concept, I'm using a basket.
And I'm pretty sure I'm using it correctly.
This is a big deal, people.
When I would hear someone say that the best way to keep countertops tidy was to use baskets, I'd nod on the outside and cry on the inside. All my own attempts at this totally obvious and logical solution had failed. I needed SIX baskets to hold all my stuff and then the stuff never made it back into the basket so my counters were covered in not only STUFF but in empty baskets.
Now I get it. I needed less stuff, not more baskets.
And once I had less stuff, the function of the basket finally sank into my Slob Brain.
The basket is where I put the stuff when I clean the kitchen.
Now I'm pretty sure a Normal Person would disagree and say "No, the basket is where you put the stuff after each and every time you use it so your kitchen counters never get out of control."
Yay for them.
That's just not how I roll. (Unfortunately.)
But with less stuff (ONLY what will fit in the basket) I find that the basket removes my frustration over my cluttered countertop since there is no decision to make, only a job to do. Move the stuff into the basket.
And if the basket overflows, then the natural limit of the container has been met and it's time to see which bottle doesn't deserve to be there. I'm using that basket ONLY for the vitamins and things that get used consistently. Random other bottles can go in the cabinet.
Don't worry. I totally get that all these things are INSANELY OBVIOUS to most people.
They weren't to me.
My newest book, Decluttering at the Speed of Life is now available wherever books are sold!
Does even the thought of decluttering overwhelm you? Sign up for my newsletter and get my reality-tested decluttering solutions delivered to your inbox for free.
__________________________________________________________________
Random Affiliate Link for the Day:
Christmas is less than 100 days away. (WHAAAT?) So here's a non-clutter stocking stuff idea. "Santa" put one in Hubby's stocking last year but I'm pretty sure "he" really meant it to be mine. I use it ALL the time. And it's only 2.82 at this moment with FREE shipping. Shipping takes up to four weeks though, so it's worth it to grab one or two now. Bear Claw Telescopic Back Scratcher (Random Colors shipped)
Save
Save
Save
--Nony