The giveaway is now closed and the winner has been notified! Stephanie P won!!
It's a sponsored post! With a giveaway!!!

It's summer. I love summer.
We're keeping up with the basics, but the very nature of summer means there are days when dishwashing emergencies happen.
Y'know, like when you stay at the pool just a few (or twenty) minutes too long, so you decide the only option for getting dinner on the table AND showering before the evening's baseball game is sticking something frozen in the oven.
On a cookie sheet.
But the cookie sheet is sitting in the sink (dirty) because it didn't fit in the dishwasher last night.
Oops.
Yay for our favorite kitchen tool.
Scotch-Brite sent my kids some cleaning tools so they could clean for me for Mother's Day. Their favorite and mine is the Scotch-Brite Soap Dispensing Dishwand with Heavy Duty Cleaning Head.
It's perfect for kids to use because it eliminates the need for excessive-dish-soap-squirting. (Not that my kids would know anything about that.)
It's also perfect for quickly and easily washing the single cookie sheet I need NOW.
Oh, and then there are the moments when you're heading out to the 50 cent summer movies and realize you never washed the popcorn bucket after the last movie you saw.
(You do realize all the "yous" in this post are talking about me, right? Okay, good.)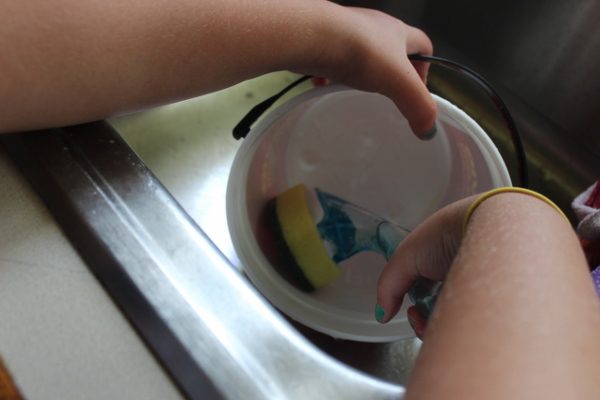 Yep, the dishwand is good for popcorn-bucket-cleaning too. No need to squirt a glob of detergent into the bucket, spend five minutes rinsing obsessively, and then still end up wishing your popcorn didn't taste a little like dish soap.
Yayyyy!!!
Scotch-Brite asked me to review two of our favorite tools, but it was hard to decide on the next one. I liked all of them.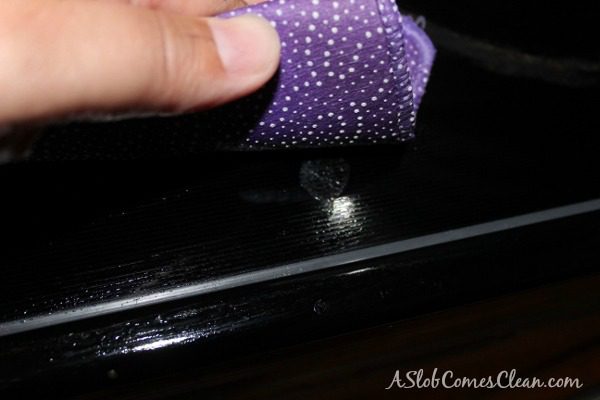 I decided the coolest, totally-new-to-me one has to be the Stay Clean Scrubbing Dish Cloths. My middlest son used it in the video. As he said, it's kind of like a sponge, a scrubber and a dishcloth all in one.
It has the soakey-uppy-ness of a sponge, but I can use it like a dishcloth. And . . . the other side is scrubby. You can fold it over to scrub the counter when you find a particularly scrub-worthy spot. This helps when someone (totally hypothetically, of course) missed a spaghetti-sauce-splatter the night before.
Or two nights before.
The only thing I don't love is that when it dries, it no longer drapes over the divider in my kitchen sink the way a regular dishcloth would.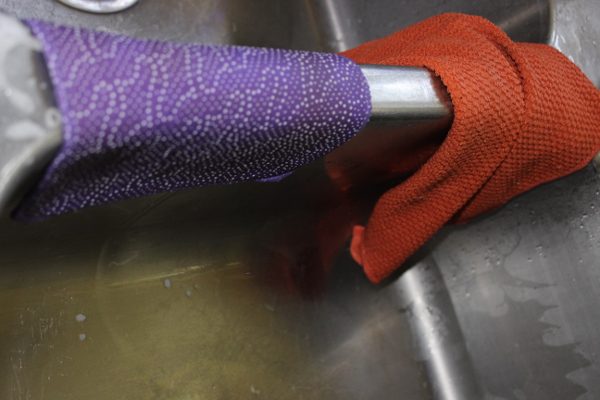 This is what it looks like when it dries:
And now . . . it's your chance to win your own Gift of Clean! Win some Scotch-Brite tools of your own!!
NOTE: This giveaway has ended.
Scotch-Brite is offering one reader a prize pack of Scotch-Brite cleaning tools:
The value is $75!!
All you have to do is leave a comment telling me which of the tools I reviewed in this post sounds like something you need!
For extra entries, you have two choices:
Follow @scotchbrite_3M on Twitter.
That's a total of three possible entries, but remember to leave a comment for each one!
I'll close this giveaway on June 30, 2014 at 9 p.m. Central time. I will use the And the Winner Is . . .  WordPress plugin to randomly choose a winner. (It's totally random. I have nothing to do with the choosing other than hitting a button!) Once a winner is selected, he/she will have 48 hours to respond to my email with his/her mailing address or another winner will be selected. Scotch-Brite is solely responsible for the fulfillment of the prize and will ship it directly to the winner. See all my giveaway policies here.
One last thing: Obviously, this post was sponsored by Scotch-Brite. They sent me these products and I am being compensated for my time writing the post and hosting the giveaway. The experiences and opinions and last minute popcorn-bucket-washing? Those are all mine!
--Nony